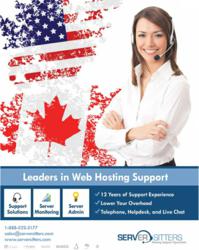 The data and support center is the nerve center of any company operating in the digital economy today
Washington, DC (PRWEB) February 13, 2013
North American outsourced web hosting support provider Server Sitters announced on late Tuesday afternoon it's plans to expand its headquarters in Charlottetown by the end of 2013
The premier outsourced support company will provide 24/7 access to its outsourced clients and also be adding easy access to live and internet support services.
"The data and support center is the nerve center of any company operating in the digital economy today," said Adam Gallant, CEO and co-founder at Server Sitters. "We continue to offer support services from certified technicians and provide the best possible service for our valued clients."
Server Sitters has proven itself as a reliable, hardened data center that can withstand any natural disaster such as Hurricane Sandy, and guarantees 100% up-time and round-the-clock support.
Server Sitters provides a wide range of services out of its main headquarters, including web hosting and managed services, IT professional services and network consulting. Server Sitters has attracted many top companies and continues to expand annually with notable improvements in service to its outsourced web hosting support clients.
Management at Server Sitters employs only the best technicians in North America. All of their technicians speak English clearly and fluently to ensure nothing is lost while communicating with clients.
Server Sitters is a tried and proven outsource help desk support solution that provides a full team of knowledgeable server administrators with years of experience in web hosting and specializing in Cpanel, WHMCS, Kayako, Plesk, Ubersmith, and all forms of Linux.
CEO Adam Gallant also added, that as new clients enroll in one of the various plans offered by Server Sitters, the support team gathers all the required information to maintain support tickets, so the customer has no reason to think another company is involved in handling support. This he notes, allows web hosting companies to dramatically improve the level of customer support, and also improve the bottom line, leaving more resources to grow.
Server Sitters is an outsourced support provider specializing in hosting support for web hosting companies that require help-desk support, live chat support and/or telephone support services.
For more information, call Toll Free: 888-522-3177, or simply visit http://serversitters.com/