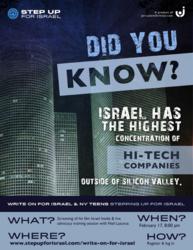 Help change the way the world views Israel...
New York, NY (PRWEB) February 14, 2013
High school seniors throughout the U.S. will unite Sunday night, February 17th, for a free advocacy training webinar with Neil Lazarus of Awesome Seminars, one of Israel's leading educators and communication experts.
The event is a joint effort of JerusalemOnlineU.com's Step Up For Israel campaign and Write On For Israel, a program of the Jewish Week of NY, designed to equip teens with the knowledge and tools to defend Israel. The program will include a screening of the award-winning documentary film "Israel Inside: How a Small Nation Makes a Big Difference," and a discussion of how such messages can help change the way the world views Israel.
"As a participant in a two-year Israel advocacy training program, I often feel like the only one of my peers who has any understanding of the biases Israel faces in the media," said Leeza Hirt, a Write On For Israel student. "I am excited that now my friends will also have the opportunity to learn how to defend Israel before we go off to college, next year."
The webinar is the first in the three-part advocacy training series Lazarus will run for high school seniors. Upon completion of the seminar, students will receive an official certificate from JerusalemOnlineU.com, signed by Harvard Professor Alan Dershowitz and Ambassador Dore Gold, the Co-Chairs of Step Up For Israel.
High school seniors are invited to register for the JerusalemOnlineU.com webinar.
"Our goal is to educate teens about Israel," said Andrea Gottlieb, Executive Director of Step Up For Israel. "Israel has an amazing story to tell which is not seen in the headlines. It is critically important that students feel a pride and connection to their heritage and homeland."
Write On For Israel, a project of the Jewish Week of New York and funded by the AVI CHAI Foundation, is an intensive two-year program that trains a select group of high school students to become advocates for Israel through journalism.
JerusalemOnlineU.com provides a wide variety of fresh and innovative Israel and Jewish education programs, merging the power of film with some of the world's most respected Jewish theologians and Middle East experts.
Step Up For Israel, an initiative of JerusalemOnlineU.com, is an international grassroots campaign that connects individuals and communities to Israel by providing a strong foundation in Israel education and activist opportunities.
Register for the webinar at http://www.stepupforisrael.com/write-on-for-israel.
For media inquiries and more information please contact:
Media(at)JerusalemOnlineU(dot)com.