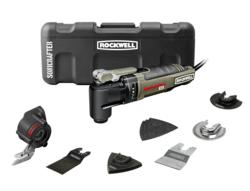 Rockwell engineers have come up with a technical solution to positively index Sonicrafter accessories, while also securely accommodating other accessory brands.
Charlotte, NC (PRWEB) February 14, 2013
Most other oscillating multi-tool brands only accept their own blades and other accessories, so users are stuck with an expensive proprietary system or need to drive across town to buy the one and only brand of accessories that fit their tools. Some manufacturers offer adapters to help make their tools compatible, but these are easy to lose and the fit isn't always universal.
Now, Rockwell engineers have come up with Universal Fit, which is a technical solution to positively index Sonicrafter accessories, while also securely accommodating other accessory brands.
Universal Fit works hand-in-hand with Rockwell's convenient HyperlockTM tool-free (quick-release) feature on two new Sonicrafters, models RK5139K and RK5140K. Hyperlock provides one ton of clamping force to prevent slippage of blades and other accessories. This is the highest accessory clamping force on any tool-free oscillating tool. So no more stopped cuts due to blade slippage, no matter what brand of accessory is loaded in the tool.
In addition, Sonicrafter's Universal Fit accessories are designed to fit all competitors' oscillating tools. If you buy a Rockwell Sonicrafter blade, it will be able to fit on any multi-tool.
Rockwell's lineup of new oscillating tools that feature the Universal Fit™ System include the Sonicrafter X2 (RK5140K), Sonicrafter (RK5139K), Sonicrafter 12V Cordless (RK2522K2) and ShopSeries Sonictool (SS51209).
"We listened to our customers by developing a system of universal accessories and multi-tools with enhanced features, plus more power," said Pete Denley, Rockwell product manager. "Also, accessory pricing has been reduced up to 30 percent to help expand applications and usage of multi-tools by homeowners, hobbyists and professionals."
There's a number of different accessories available for Rockwell multi-tools, and each is designed to quickly and easily provide solutions to common DIY projects. New Rockwell accessory blades feature a stepped profile for true flush-cutting applications, unlike flat blades that come up short. In addition, a newly introduced precision end-cut blade design improves both cutting efficiency and blade durability.
Compact and versatile Rockwell multi-tools accomplish a seemingly endless variety of tasks. Using a bimetal end-cut blade, they quickly and easily make intricate end cuts or plunge cuts in wood and other materials. For example, this is ideal for trimming door casings and jams when installing new wood or tile flooring.
Clamp on a rigid scraper blade to remove blistered paint or take rust to bare metal for priming. Use the same blade to scrape caulk from around bathtubs, sinks, backsplashes and windows, or scrape hardened adhesives from vinyl flooring or carpeting.
Use a semicircle saw blade to make plunge cuts in walls and ceilings. This is handy for installing electrical boxes or patching damaged sections of drywall.
Switch to a carbide semicircle blade to grind grout from between floor and wall tiles. You'll leave less of a mess because the oscillating blade doesn't spew out dust like a conventional grinder. Plus, you'll have a precise cut without scratching tiles.
Triangular-shaped sanding pads and sanding sheets are great for detail sanding in corners and tight spaces. Other Sonicrafter accessories quickly and accurately cut thin sheet metal and fiberglass. They also saw off copper pipe, PVC and other tubing flush to a flat surface.
The newest member of the Rockwell Universal Fit family is the next generation Sonishear (RW8943), that effortlessly slices through materials ranging from cardboard to thin wire fencing.
Rockwell also has designed a new tool case specifically for the new Sonicrafter X2 (RK5140K) and Sonicrafter (RK5139K) and accessories. The compact, waterproof case features separate bulk storage areas for quick and easy access to the tool and numerous accessories. The tool even fits in the case with the accessory installed. Its rigid, durable construction also provides ease of stacking and transport.
The new Rockwell line of Sonicrafter multi-tools and Universal fit accessories are available at http://www.rockwelltools.com and other websites, including Menards and Lowe's, as well as regional hardware and home centers nationwide.
Media Contact: MKM Communications at 847-255-1903 or mkmcomm(at)gmail(dot)com.