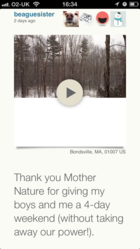 Boston, MA (PRWEB) February 14, 2013
As the Eastern Seaboard of the United States begins to recover from Blizzard #Nemo, Weathermob has reported a 300% increase in new reports and reporters, as Americans flocked to its 'social network for the weather' in search of the real-time, hyper-local reporting they couldn't get from news or weather networks.
Since it launched just over a year ago, Weathermob has been nurturing a large and vibrant community of users across more than 133 countries. Armed with the highly-praised Weathermob iPhone app, these people have transformed themselves into social weathermen and women, creating reports that combine live, multimedia reportage with the human story of users' own emotional responses to the weather.
Now, as two severe weather systems - Sandy and Nemo - hit the East Coast of the United States in just four months, Weathermob's social weather reporters have come into their own as a more reliable source of local weather information than news outlets, and even other real-time social networks like Twitter. Consequently Weathermob has experienced a threefold uptick in newjoiners as people turn to its live newsstream to see how heavy snowfall or high winds are affecting their local areas and use this information to make important travel decisions.
Weathermob CEO Julia LeStage, explained: "Network weather reports are great if you're planning several hours ahead but can provide sometimes lousy data on which to make immediate decisions. For example, a commuter who has to decide whether to get in their car this morning needs information on what weather conditions are like right now - not in three or four hours' time. This is where Weathermob excels. A user firing up their app can see immediately if other people in their hometown, or even neighborhood, is reporting heavy snow and react accordingly, and, how they feel about it. It's providing the kind of granular, real-time information that the mainstream media can't deliver. Not only does it enable people to express themselves but could help individuals to make life-saving decisions."
Twitter has also been highly praised for its resilience and ability to disseminate real-time information about severe weather conditions to large audiences. Yet the experience of Hurricane Sandy and now the Nemo blizzard has exposed limitations in the way it organises information and presents it to users. Without any function to reliably track tweets by location, people were unable to use Twitter to follow the storm's progress across their local area.
These local limitations were further compounded by the regional structure of broadcast news and weather reporting in the US, which offer TV and radio stations no incentive for sharing reporting beyond their local 'beat'. This meant that people only learned about the true risks and severity - or not - of the coming storm when it was close
All these factors add up to a pressing need for a weather reporting platform which, like Weathermob provides accurate information at a hyper-local level, but also enables users to track events at national and global levels.
Even as Weathermob demonstrates proof of its utility in emergency scenarios, Julia LeStage emphasised that the network has its compelling social applications. She said: "We all experience the weather every day, and we have something to say about it – and that opinion is directly influenced by context. In New York City, Central Park looked like a spontaneous amusement park. And, as even more snow fell in Boston, I saw just as many people post pictures of their kids sledding and making snowmen as those who reported dangerous travelling conditions - as if they were doing their community a service. And, they were. We created Weathermob to convey how the weather interrelates with the full extent of human experience. It's been captivating and moving to watch such heavy weather generate so much joy for some and devastation for others at the same time. The weather has always been a human story; Weathermob is now telling it that way."
About Weathermob
Weathermob is a social weather platform. It mashes up real-time meteorological data, location-based services, icon, photo/video sharing and user sentiment to create an app that enables users to report on the weather right now in their local area and share it with their friends and the world, while expressing how it's making them feel.
Available for iPhone, the free Weathermob app is designed to make talking about the weather as social an online experience as it is already for the millions of people who use it to open conversations with strangers, colleagues, friends and family in real life.
Weather has always been a global story, and people have always talked about it. Weather provides a universally relevant connection. Weathermob provides the tools to enable the weather story to be shared around the world, by the people in the weather.