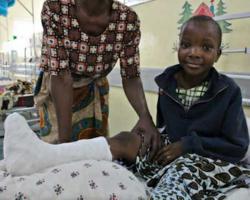 "We rely on donations from caring individuals to help fund their care. Watsi, with their social approach to funding medical care, will help us bring healing to more children." - Joel Worrall, Vice President of cure.org
Lemoyne, PA/San Francisco, CA (PRWEB) February 14, 2013
Today, CURE International, one of the largest providers of specialty pediatric surgical care in the world, and Watsi, the first global crowdfunding platform for healthcare, announced a formal partnership to bring life-changing medical care to thousands of children in the developing world.
"Our hospitals around the world receive thousands of patients each year -- children needing specialized surgical care," said Joel Worrall, vice president of cure.org. "We rely on donations from caring individuals to help fund their care. Watsi, with their social approach to funding medical care, will help us bring healing to more children."
CURE and Watsi had previously engaged a one-month pilot partnership. During that pilot, CURE sent Watsi profiles for 25 children awaiting surgical care, Watsi posted them on its website, and 400 individuals from around the world donated more than $26,000 to directly fund life-changing medical treatments for all 25 patients. CURE provided the necessary medical care, and Watsi donors received an update about the patient they supported. During this test phase, treatments fully funded by Watsi donors included a one-year-old baby with hydrocephalus, a 6-year-old girl with a burn scar contracture, and a 6-year-old boy with clubfoot.
"Our mission is to connect people to expand global access to health care. We're passionate about leveraging the power of technology to create change for people in need of medical care around the world," says Grace Garey of Watsi. "CURE is doing the kind of work we – and our community of users – want to support. We're excited to see this partnership grow."
As a result of the formal partnership announced today, CURE and Watsi expect to provide thousands of life-changing surgeries to children who would otherwise lack access to medical care. This innovative partnership is the first of its kind for both organizations. Individuals can visit watsi.org to directly fund a medical procedure.
About CURE International
CURE International has a 15-year track record of providing children with curable, physical disabilities the treatment they need to live normal lives. CURE operates hospitals and programs in 27 countries worldwide, and since opening its first hospital in 1998 has seen nearly 2 million patients, provided more than 138,000 life-changing surgeries, and trained over 6,100 medical professionals. Learn more at cure.org
About Watsi.org
Watsi.org is a website that, in a world where one billion people cannot afford medical care, is revolutionizing the way everyday people participate in the fight for global health by enabling anyone to directly fund low-cost, high-impact medical treatments for individuals in need of care. Learn more at watsi.org