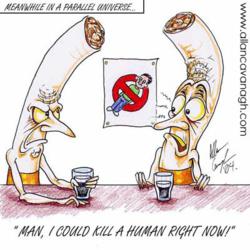 WARNING: Cigarettes cause cancer!
Fairfax, Virginia (PRWEB) February 13, 2013
February is National Cancer Prevention Month.
Lung cancer prevention goes beyond avoiding smoking. Below are some helpful tips you can do today to help lower your risk:
1. Don't smoke
It is never too late to quit smoking. Taking action is always the first step! Smoking is the leading cause of lung cancer, responsible for 80 to 90% of lung cancers.
2. Check your home for radon
Radon is an odorless gas that results from the decay of natural uranium in the soil beneath our homes. Radon is the leading cause of lung cancer in non-smokers, and the second leading cause of lung cancer overall.
3.Be careful and aware at work
It's estimated that up to 29% of lung cancers in men are related to on-the-job exposures to cancer causing substances. Make sure you are always aware of your surroundings and try to void exposure as much as possible.
4.Be careful and aware at home
Chemicals that contribute to lung cancer are not only found in the workplace but can also be under your sink or in your garage. Make sure you always read the labels on products so you can store them in the appropriate locations and out of harms way. Wood smoke from wood burning stoves and fireplaces can and may also increase your risk.
5.Avoid secondhand smoke
Secondhand smoke is responsible for roughly 3000 cases of lung cancer each year in the US alone; chances increase when you live with a smoker by 20% to 30%.
6. Exercise for Lung Cancer prevention
Exercising in moderate amounts can help with lowering your risk.
7. Eat a variety of fruits and vegetables
You can help lower your risk by having a diet that is rich in fruits and vegetables.
8. Enjoy a cup of green tea
Green tea has been shown to prevent some of the damage to the cells caused by smoking.
9.Limit your intake of alcohol
Drinking a moderate amount of wine is linked with a lower risk in developing the disease. Heavy consumption of beer and hard liquor is associated with an elevated risk.
Sources:
lungcancer.about.com