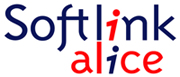 (PRWEB UK) 14 February 2013
Softlink, a world leading provider of knowledge, content and library management solutions, announced today it will release Alice 7, the latest version of the popular Windows-based library management solution for schools and special libraries.
Softlink CEO Kim Duffy said Alice 7 includes new features designed to provide enhanced functionality and increased aesthetic appeal as well as compliance with RDA standards for MARC21 records.
RDA standards replace the Anglo-American Cataloguing Rules (AACR2) as the preferred cataloguing standard for MARC21 records. Alice 7 will ensure that organisations can readily adopt RDA when implemented in the coming months. Alice will simultaneously support AACR2 ensure consistency of content.
"Supported Alice 7 customers will also benefit from enhanced multimedia management and picture search features," Kim said.
"Library collections have changed. Today's school and special libraries manage complex collections with a diverse range of resources including video, audio, photographic images, slideshows and other electronic files, not just traditional books and journals."
Although there continues to be higher demand for libraries to manage more resources, budgets are not increasing at the same rate, leaving many libraries unable to move to web-based solutions.
"We want to support our valued long term customers with greater functionality to manage their diverse collections and assist in their role to encourage student engagement of contemporary learning resources."
Another Alice 7 module available for supported customers includes an easy to use search interface specially designed to engage younger users. The interface or OPAC, designed for primary school users, will help libraries to engage students in learning from a young age.
"Even though Alice has been available for more than ten years, continual investment in the technology ensures that it remains an efficient, effective and appealing library management solution, " Kim said.
"We are committed to providing on-going support and development for Alice."
Softlink will continue to monitor industry trends and provide leading knowledge, content and library management solutions for the future development of the industry.
Individuals interested in information of Alice 7 should contact Softlink on +44 (0) 1993 883 401
About Softlink:
Softlink is a world leading provider of knowledge, content and library management solutions. Softlink supports more than 10,000 libraries in more than 108 countries. Softlink's core business is the development of technology to enhance the efficiency and effectiveness of library operations; catering for the needs of all types of libraries including School, Special, Public and Academic Libraries.
For more information on Softlink, visit http://www.softlink.co.uk.
Softlink Media Contact: Andrew Norton, Marketing Manager
p +44 (0) 1993 883 401 e anorton(at)softlink(dot)co(dot)uk w http://www.softlink.co.uk