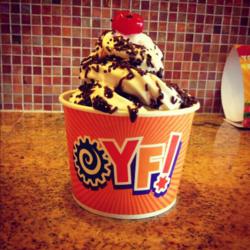 The creamiest, best tasting frozen yogurt in the industry, period.
Havertown, PA (PRWEB) February 14, 2013
YoGo Factory frozen yogurt, a national self serve frozen yogurt franchise, has announced further expansion into Pennsylvania with its third store in Havertown, PA, located in Delaware County. The corporate location is in the planning stages, and the local patrons will be enjoying their new favorite dessert shop in a projected 90-120 days. With the 18th store now open, YoGo Factory announces plans for another wave of 6+ stores throughout eastern PA. By 2014, the company projects YoGo Factory to have over 120 frozen yogurt franchise partners, and 25 corporate owned frozen yogurt stores throughout the United States with additional stores abroad. YoGo Factory is happy to guide its franchisees from start to finish while building their stores and offers continued support throughout the duration of the relationship. Looking to open a frozen yogurt franchise? Look no further, because YoGo Factory is here to help you open your own frozen yogurt store and leave all the leg work to them.
YoGo Factory frozen yogurt company's mission is to offer the customer a total frozen dessert experience. Most YoGo Factory stores are much larger than your typical frozen yogurt shop, and offer an inviting feel, filled with comfortable booths and a 40' granite yogurt bar for seating. The froyo cafe's offer both free WI-FI and wall mounted iPads, which feature Facebook, Twitter, Foursquare and can navigate the company website to learn about flavors, toppings, book frozen yogurt parties, and more fun information about froyo and the company itself.
The company's main focus is not just the creamiest, best tasting, froyo in the world, but also to provide each and every customer a total frozen yogurt experience rather than a "get in, get out" type of experience. The YoGo Factory stores really do offer a different feel than most "cookie-cutter" froyo shops. The company also prides itself in offering the largest amount of toppings, fresh fruit, syrups, and frozen yogurt flavors in the country, boasting well over 100 toppings and over 75 flavors of frozen yogurt, most non-fat. Franchise, licensing and master franchise opportunities are still available in PA and across the US through the company website, at http://www.YoGoFactory.com