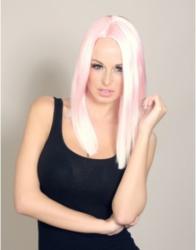 Extensions and wigs allow you to embrace the pink hair trend with minimal commitment and at an affordable price.
London (PRWEB UK) 14 February 2013
Over the last 12 months, changing hair colour from a natural shade to an unnatural shade has become more mainstream. Celebrities including Katy Perry, Kelly Osbourne, and now Dame Helen Mirren have shown that it is easy and that anyone, regardless of age, can do it. Now pink and purple hair is becoming more mainstream with girls and women across the country embracing this fun hair trend. Whether it be a splash of colour at the tips, two or 3 pink highlights or full colour, candy coloured hues have never been so popular, and can now be spotted on most high streets across the UK.
Going for an unnatural colour can be expensive and require a lot of salon visits though, plus it may not always go down so well with bosses at work. So faking it with clip in extensions or a good quality wig is another very popular solution, say Wonderland Wigs. Synthetic wigs and extensions can look and feel very realistic and are also more affordable than salon visits.
Wonderland Wigs have recently introduced a range of dip dyed clip in extensions, temporary coloured hair dye and have a vast range of pink, purple and pastel coloured wigs. So it is possible to embrace this pink hair trend without committing to pink hair on a permanent basis.
Creative Director, Sam McClements says, "Wigs and extensions are the perfect solution to changing your hair colour and embracing this trend. At weekend's you can go pink or dip dyed, and then mid week in the office you can go back to your natural shade. Faking it is the perfect solution."
Wonderland Wigs is a leading retailer of celebrity and fashion led wigs, hairpieces, extensions and hair accessories. Based in the UK, with the aim of giving every girl the 'great hair she deserves', Wonderland offer something for everyone and are favored by a host of celebrities across the world. http://www.WonderlandWigs.com