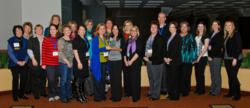 "In a one-year period nearly 700 psychotropic medications have been either discontinued or decreased among people in the Ecumen Awakenings dementia care program."
Minneapolis/St. Paul, Minnesota (PRWEB) February 14, 2013
Ecumen has received Aging Services of Minnesota's Leading Change Innovation Award. The award recognizes Ecumen Awakenings, a initiative to reduce the use of unnecessary antipsychotic and other medications for residents with dementia.
About a third of all residents in nursing homes are prescribed such drugs. In some cases these drugs are helpful in helping calm disruptive behaviors often related to Alzheimer's. In other cases, they make them worse or cause the person to live in a zombie-like state. When prescribed for residents who do not have a behavioral diagnosis, they may contribute to a lower quality of life in addition to posing significant health risks.
In 2012, fifteen of Ecumen's care centers were awarded a three-year Performance Based Initiative Program (PIPP) grant from the Minnesota Department of Human Services (DHS). The goal of the program is to improve the quality of life of care center residents by re-examining and improving the quality of care. Awakenings is an integrated approach focusing on mind, body and spirit that incorporates the involvement of residents and family members, rehabilitative nursing, specialized training on communication and relationship building with residents, and collaboration with psychology, psychiatry and pharmacy professionals.
The result is a comprehensive, holistic approach to improving residents' quality of life – literally "awakening" a number of patients who have been sedated, lethargic, or experiencing decreased physical and cognitive functioning due to inappropriate use of antipsychotics, hypnotics, anti-anxiety, and other medications.
Since its implementation, the program has met and exceeded all of its formal PIPP outcome goals. In a one-year period nearly 700 psychotropic medications have been either discontinued or decreased among people served in the Awakenings program. Among the dramatic stories of resident "awakenings" is the following example, as told by the center's Resident Care Coordinator:
One woman, who was non-verbal since her arrival, was on Risperdal and Ativan. Her primary physician was willing to attempt weaning her off of these meds at the request of our nursing staff, and she was eventually weaned off of both drugs. This woman speaks again. She is able to engage with her daughters who visit frequently, and who have said, 'What a gift you have given our family.'" The woman was initially given these medications as an adjunct therapy for pain management. When she started speaking again I asked her if she still had pain when on Ativan. She stated 'yes.' I asked her, 'You just couldn't talk?' She said 'yes.'
About Ecumen: Ecumen is the most innovative leader of senior housing and services, empowering people to live better, easier and more fun lives. Its mission is to create home for older adults wherever they choose to live. Ecumen envisions a world in which aging is viewed and understood in radically different ways. The Minneapolis/St. Paul Business Journal has identified Ecumen as one of Minnesota's "Best Places to Work", and the Minneapolis Star Tribune named Ecumen as one of Minnesota's "Top 100 Workplaces".
About Aging Services of Minnesota
Aging Services of Minnesota is Minnesota's largest association of organizations serving Minnesota seniors. Its mission is simple – to improve the lives of Minnesota seniors and families by leading change and innovation in the field of older adult services.
Its membership encompasses over 1,000 organizations across Minnesota. Together, it works with over 50,000 caregivers and serves more than 125,000 seniors each year in all of the places they call home, including senior housing communities, assisted living and care centers.
Aging Services members are diverse but share a common focus on person-directed living, missions of service to their communities and choice in older adult services. Aging Services is the state partner of LeadingAge and the Assisted Living Federation of America (ALFA).