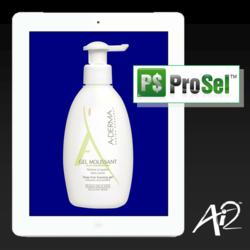 This kind of mobility is what top companies demand from their tech providers.
CHICAGO, IL (PRWEB) February 13, 2013
Software developer Ai2 today announced that Pierre-Fabre Dermo-Cosmetique USA is deploying Ai2's ProSel enterprise mobility solution for sales. Pierre-Fabre, a leading international cosmetics manufacturer and distributor, will replace an online laptop order entry system with ProSel for iPad, a move designed to increase outside sales rep mobility and presentation capabilities. Ai2 trained Pierre-Fabre's outside salespeople and they're on the street with the automation solution. Initial reaction from users has been "very positive," according to Pierre-Fabre.
The high profile of a large global organization like Pierre-Fabre demands high-profile technology, and no device is more suited to an elegant and smooth presentation than the iPad. When the industry-leading tablet is coupled with Ai2's ProSel sales force automation system, the result is a greener and more efficient sales process. iPads lend themselves to a more interactive presentation to a customer and are better for displaying images and videos related to the product line.
"Ai2 has worked in the cosmetic and beauty product industry for more than ten years and we're proud to give Pierre-Fabre a fantastic solution," said Douglas Katich, CEO for Ai2. "This kind of mobility is what top companies demand from their technology solution providers, and we welcome the opportunity. When you vet other providers, it becomes clear: only ProSel has everything a sales rep needs in a tablet app."
ProSel, a worldwide top-100 business app, is Ai2′s latest addition to its software suite for distributors. The native app gives wholesale distribution sales reps offline access to their complete product e-catalog, the ability to order from an image display, a very fast search function, content management, document syncing and much more. The solution works without the need for a persistent connection and integrates seamlessly to any host ERP system. Since ProSel's debut, some of the largest distributors in the U.S. have licensed the solution to replace their legacy field ordering systems. A free demo version of ProSel is available on the App Store for download here.
Pierre Fabre Dermo-Cosmetique USA, Inc. was founded in 1986 and is based in Parsippany, New Jersey. The company's cosmetics and hair-care products are sold everywhere in the US in Dermatologists offices (Avene and Glytone), Retail (Avene and Klorane) and Salons (Rene Furterer). For more information, visit Pierre-Fabre.com.
Ai2 was founded in 1986 and is headquartered in downtown Chicago. More than 75,000 users use Ai2 solutions each day to capture upwards of $75 billion in annual sales. More than 10,000 retail stores and more than 1,000 movie theaters use Ai2 solutions for their order entry needs. Ai2 improves the sales process for some of the world's largest distributors in foodservice, convenience store, grocery, beverage, hardware, medical, beauty products, jewelry and more. For more information about Ai2, visit http://www.Ai2.com.