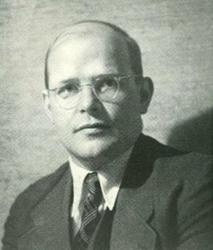 "Life Together" is bread for all who are hungry for the real life of Christian fellowship.
Philadelphia, PA (PRWEB) February 14, 2013
The 2013 Lenten Wednesday series at The First Presbyterian Church in Philadelphia will explore the writings of German theologian and pastor Deitrich Bonhoeffer. In 1938, on the eve of the 2nd World War, Bonhoeffer reflected on the crisis then facing the church. His reflections were published as "Life Together", which will be the focus of the series.
The 5-week series will begin on Wednesday, February 20. The evening begins at 6:30 with a simple meal in Old Buttonwood Hall, followed by a guided discussion of Bonhoeffer's text led by the Rev. Jesse Garner and the Rev. Mindy Huffstetler. The evening will conclude with a service of evening prayers in the sanctuary, planned in the spirit of Bonhoeffer's reflections.
Dietrich Bonhoeffer (1906 - 1945) was a theologian, martyr, spiritual writer, musician, pastor, and author of poetry and fiction. The strength of his Christian faith, the integrity of his life, and the international appeal of his writings have had an enormous effect upon the church, pointing the way to a more spiritual and responsible Christianity. Bonhoeffer is best known for his courageous stand against Adolf Hitler and the Nazi party. His beliefs and convictions ultimately cost him his life in a Nazi concentration camp in April 1945, just days before the end of the war.
Copies of "Life Together" are available for purchase from Amazon and other booksellers, or from the Rev. Huffstetler. On street parking will be available for this series.
The First Presbyterian Church in Philadelphia at 21st & Walnut Streets was founded in 1698. Since then we have been a home to a diverse group of Christians from the greater Philadelphia region. We are many voices but one people who seek to glorify God through worship, prayer, and theological inquiry, to live the love of Christ through service to others, and to provide a welcoming and nurturing presence in this urban community. We are active members of the Presbyterian Church (U.S.A.), the Presbytery of Philadelphia and the Covenant Network.