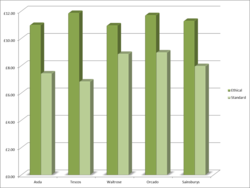 On average shoppers at these supermarkets will pay 43% more for this ethical bundle of goods.
London, UK (PRWEB UK) 18 February 2013
AFOBI are best known for their solid oak chairs and funky coffee tables. Why then, all the interest in supermarkets? "AFOBI is an acronym for 'Affordable Furniture of Beauty & Integrity" explained the company spokesperson, "we want to give our customers good value sustainable bespoke kitchens and inbuilt wardrobes. Many of our products are FSC certified. Currently we find that, although customers might be willing to pay a little more for ethical products in the supermarket, there is very little awareness of the importance of buying certified timber."
Today, in the UK, 75% of food purchases are from supermarkets. Most supermarkets stock ethical products and retail these at a premium to the standard alternatives. AFOBI will track the price of a bundle of ethical goods from the UK's largest online supermarkets over the coming years. The furniture company will reveal where to buy these goods at the lowest price and how prices compare to the standard equivalents.
So how did AFOBI select this bundle of goods? "There are many criteria for ethical goods. The supermarkets don't always make it clear if the goods they sell have been produced locally, tested on animals or whether their packaging is recycled. Not all supermarkets retail the same Marine Stewardship Council certified fish. AFOBI selected our bundle of goods based on a variety of ethical choices that can be made at all supermarkets."
AFOBI's ethical bundle is as follows:
i) 2 pints of organic semi skinned milk
ii) 227 gram bag of ground fair trade coffee
iii) 4 x recycled toilet rolls
iv) 250g organic whole mushrooms
v) 185g line caught canned skipjack tuna
vi) 500ml biodegradable, multi-surface cleaning spray
vii) 40 rainforest alliance certified tea bags
The results for 17th Feb 2013:
Asda ethical £10.98; Asda standard £7.43
Tesco ethical £11.86; Tesco standard £6.84
Waitrose ethical £10.95; Waitrose standard £8.86
Ocado ethical £11.70; Ocado standard £8.97
Sainsbury's ethical £11.28; Sainsbury's standard £7.97
What do the numbers tell us? Clearly Waitrose are the cheapest place to buy this bundle of ethical goods while Tesco are the cheapest on the standard alternatives. On average shoppers at these supermarkets will pay 43% more for this ethical bundle of goods than the standard alternatives.
Given this revealing data is ethical shopping worthwhile? Should UK citizens shell out their hard earned cash to do the right thing? "Twenty years ago no one would have believed that all major supermarkets would stock organic milk and fair trade coffee. There is still a long way to go if ethical purchases are to become the norm instead of the exception. The first step is affordability. To achieve affordability you need economies of scale. So consumers need to keep buying ethical goods."
To comment on the AFOBI ethical index please click here.
Notes to Editors –
The above figures do not seek to give a comparison of retail costs of a standardised basket of goods at these different supermarkets. The focus is on the mark up for ethical buyers and the goods selected are not representative of a weekly shopping basket. Waitrose and Ocado do not sell non-line caught skipjack tuna; in these cases an average cost of this standard item has been used.