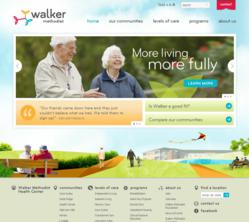 Minneapolis, MN (PRWEB) February 14, 2013
Preston Kelly has been awarded the IMA "Best in Class" honor for the new Walker Methodist website design. This is Preston Kelly's second IMA award in three months, after winning "Best in Class" honors for the Regions Hospital website in December. "This award continues the strong run for Preston Kelly's digital teams," according to Digital Director Tom Schooley. "The team at Walker Methodist was open to new thinking and took some real leaps of faith in a normally conservative category."
Creative Director Peter Tressel adds, "This award is validation of a more iconic and creative approach to UX and digital consumer engagement. It underscores our belief that digital doesn't need to be boring to work hard and effectively despite what some experts may profess."
"We are so proud of the work that earned this prestigious recognition," says Nick Kozel, VP of Marketing and Communications at Walker Methodist. "Preston Kelly has been, throughout our partnership, experts at counseling, guiding, listening and engaging to create the best results for our business. Their collaborative process is directly responsible for this incredible recognition."
The Walker Methodist website competed in the Non-Profit category and won "Best in Class" with an overall score of 480 out of a possible 500. According to the IMA, "The 'Best in Class' award is the highest honor bestowed by the Interactive Media Awards. It represents the very best in planning, execution and overall professionalism."
In order to win at this award level, the website had to successfully pass through the IMA's comprehensive judging process, achieving very high marks in multiple judging criteria including design, usability, innovation in technical features, standards, compliance and content. The IMA website notes that the "Best in Class" Award is "an achievement only a fraction of sites in the IMA competition earn each year."
Preston Kelly continues to have a strong presence in health and wellness marketing, partnering with multiple clients including Walker Methodist, HealthPartners, Physicians Mutual, Be the Match, virtuwell, yumPower, CoOportunity Health and Medtronic.
About Preston Kelly
Preston Kelly is a full-service, independent agency that creates Iconic Ideas for its clients across multiple categories. In addition to being selected as Advertising Age's Midwest Small Agency of the Year in 2010, Preston Kelly was honored in the national 2012 Effie Awards, its third such award in the past five years. The agency also earned recognition for Integrated Campaign of the Year in the 2010 Radio Mercury Awards. Preston Kelly is a member of Worldwide Partners, the world's largest network of independent marketing and communications firms. To learn more about Preston Kelly, visit http://www.prestonkelly.com, become a fan on Facebook at http://www.facebook.com/prestonkellyagency or join the conversation on Twitter at http://www.twitter.com/prestonkelly. You can also read our musings on the latest trends in advertising at http://iconicideas.tumblr.com/.
About Walker Methodist
Walker Methodist, a nonprofit organization, has served the community since 1876. Its eleven properties are located throughout Minnesota and offer a wide range of choices including housing with a variety of services, rehabilitation and transitional care, a dental clinic, and adult day care. Learn more at: http://www.walkermethodist.org or find them on Facebook.