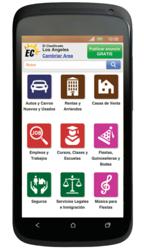 These traffic numbers demonstrate that our company is strategically positioned to grow with such market trends, provide Hispanic consumers with the information they are looking for and deliver relevant audiences to our advertisers.
Los Angeles, CA, February 13, 2013 (PRWEB) February 14, 2013
EC Hispanic Media reaches a significant milestone and announces that more Latinos are accessing its flagship online property ElClasificado.com via mobile devices than desktops. While overall traffic to the website has increased yearly, a significant amount of the growth has been driven by consumers on mobile platforms. The mobile website commands an impressive 60% of its overall online traffic from mobile devices. Elclasificado.com is on track to reach 8 million mobile page views of an overall 12.5 million page views by the end of February 2013. In addition, when accessing elclasificado.com from a mobile device Hispanic consumers spend nearly 10 minutes on the site and average 11 pages per visit.
As one of the top online destinations for US Hispanics, el clasificado.com's new mobile site offers an enhanced and streamlined user experience. The front page interface gives consumers quick access to more than 220,000 ads and dozens of categories for products and services that Hispanics are looking for every day such as cars, rentals, real estate, jobs, dentists, lawyers, technical colleges and more. Consumers can perform searches directly from any mobile device and receive results from their local market to ensure maximum relevancy. Users are also able to contact advertisers directly utilizing the easy to use mobile interface.
"This milestone is important not only because Hispanics are adopting smart phones at incredibly high rates vs. the general market, but also because we know that there is a growing segment of tech savvy Hispanic consumers who are skipping internet access from home and office and are relying on the smart devices for their online access almost exclusively", said Martha de la Torre, CEO and co-Founder of EC Hispanic Media. "These traffic numbers demonstrate that our company is strategically positioned to grow with such market trends, provide Hispanic consumers with the information they are looking for in the way they prefer to consume it and deliver relevant audiences to our advertisers."
The mobile version of elclasificado.com is a platform that supports the needs of Spanish speaking consumers not only in the US but throughout the world with over 270 cities to choose from. "In the next 12 to 24 months, we will be adding functions in this platform that will make the user experience even more seamless" said Ms. De la Torre.
Special non-intrusive banners also form part of our mobile site, giving advertisers a presence beyond our classified listings. "The combination of this enhanced mobile site and the increasing audience it commands offer great opportunities for local and national advertisers. There is great value here for advertisers of all sizes", mentioned Hugo Hernandez, Director of Marketing, Events and National Sales at EC Hispanic Media. As part of its re-launch, EC Hispanic Media is offering special advertising packages which will be announced via trade publications e-mails on Monday February 25.
About EC Hispanic Media
EC Hispanic Media is a Los Angeles based company with headquarters in Norwalk, California. Through its flagship print product, El Clasificado, EC Hispanic media reaches 1.5 million Hispanics on a weekly basis. Its footprint extends from the Central Valley of California to San Diego with a distribution of 500,000. In the last year, the distribution has grown at a neck breaking pace, and has recently expanded into the Fresno and the Bakersfield markets. EC Hispanic media also owns elclasificado.com which generates over 12.5 million page views and is ranked by Quantcast among the top 8,000 US websites. EC Hispanic Media's events division produces "Quinceañera Expo" which attracts 10,000 attendees annually, and the "Su Socio de Negocios" small business workshop series. EC Hispanic Media also reaches the bilingual Hispanic via its online property alborde.com and its "Día de los Muertos" event in November. Most recently, EC Hispanic Media launched the monthly publication El Punto in the Los Angeles market to fill the void in local news and information left behind by other shrinking publications.