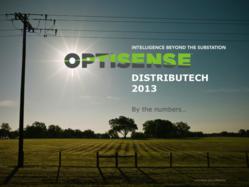 "Could Super Bowl XLVII's now infamous blackout have been prevented?" asks Stephen Prince, CEO of Optisense Networks.
Plano, TX (PRWEB) February 14, 2013
70,000 fans in the dark.
Super Bowl play halted for 53 minutes.
108 million viewers left wondering.
Stadium officials scrambling to figure out what went wrong.
$Millions in winnings at jeopardy.
"Could Super Bowl XLVII's now infamous blackout have been prevented?" asks Stephen Prince, CEO of Optisense Networks, makers of Medium Voltage technologies for electric distribution systems.
"The outage at the Super Bowl highlights how far we still have to go with our electrical distribution system in the most developed country in the world," notes Prince. "With the bulk of "Smart Grid" resources for electrical distribution systems being channeled into AMI (advanced metering infrastructures), there is a vacuum of information on the miles and miles of distribution circuits between substations and the energy consumers' loads. Ironically, it has long been known that the majority of grid problems occur on electrical distribution systems similar to those that serve loads like the Super Dome. However, these circuits are still inadequately monitored," he added.
The source of the power interruption at the Super Bowl in New Orleans has been traced to a newly installed electrical relay device meant to protect Superdome equipment, a power company and the device's manufacturer said Friday, February 8. The relay, which was put online late last year, triggered unexpectedly causing another device to stop supplying power to part of the facility, Entergy New Orleans told city officials. 1
According to electric provider Entergy, the problem started at the spot where Entergy feeds power into the stadium's lines. ''A piece of equipment that is designed to monitor electrical load sensed an abnormality in the system,'' Entergy stated. ''Once the issue was detected, the sensing equipment operated as designed and opened a breaker, causing power to be partially cut to the Superdome in order to isolate the issue."1
"Sometimes equipment and operators alike make incorrect decisions," said Prince, "but all of these decisions are usually made based on data. In this case, the ability for operators to evaluate multiple data points across the distribution system could have allowed them to quickly validate or refute the input given by a single erroneous data point."
"There have always been interruptions in electricity due to a variety of reasons," continued Prince, "but most do not get broadcast around the world – as in the case of the Super Bowl. A reliable source of energy is essential to a utility customer's operation and profitability, and sometimes even to a utility or city's reputation."
The interruption at the Super Bowl only serves to underscore why it is so important for utilities to have timely and accurate information regarding the status and health of the circuits that feed our homes and businesses.
Optisense designs, produces and delivers innovative technologies for medium voltage distribution systems that can provide distribution system operators with the accurate data and information they need to make informed decisions."
"By continuously evaluating the distribution system parameters on a 24/7 basis, Optisense's products are able to provide indications of impending problems to allow scheduled maintenance instead of unplanned interruptions."
1. "Manufacturer Blames Super Bowl Outage On Incorrect Setting," CNN, FEBRUARY 8, 2013.
About OptiSense
Founded in 2001, OptiSense (http://www.optisense.net) is a smart grid company that designs, produces, and delivers technologies for medium voltage distribution systems. Our products provide control to improve reliability, increase efficiency, and extend the life of capital assets. We do this by leveraging proprietary technology to acquire real time data and produce actionable intelligence for medium voltage systems.