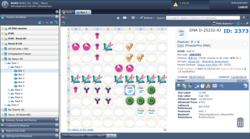 FreezerPro® 6 should excite our user base, which has provided a year of excellent feedback.
Frederick, MD (PRWEB) February 14, 2013
RURO, Inc., a leading supplier of state-of-the-art computer software and RFID solutions in frozen sample management, today announced the release of FreezerPro® version 6.
"The new version is focused on improvements and new content for modernizing lab environments," said Tom Dolan, director of sales. "FreezerPro® 6 should excite our user base, which has provided a year of excellent feedback."
For a full list of features, visit http://www.ruro.com or speak to a representative at (888) 881-7876.
FreezerPro® Version 6 Highlights:

Clinical Data Module: Creation of tests to associate sample sources (Enterprise Edition Optional Feature)
Customize Homepage Display: Add features you use regularly
User Interface Features: Over 15 user-suggested additions for granularity in permissions, summary displays, configurability and more.
Version 6 is developed and validated according to FDA Guidelines for Software Development, cGLP/cGMP (Good Laboratory Practice and Good Manufacturing Practice), Section 508 Accessibility Guidelines, HIPAA Accountability Act of 1996, HIPAA Patient Safety and Quality Improvement Act of 2005 (Patient Safety Act).
For more information please visit http://www.ruro.com/freezerpro
About RURO
Founded in 2006, RURO specializes in modular information management systems for laboratories worldwide. FreezerPro®, RURO's solution designed purely for Sample Management, can be complimented by Sciency ELN and the full-scale LIMS 24/7. Many lab businesses begin with the RURO system that suits current requirements for compliance and automation and then grow within the same software methodology as needed.
For thousands of lab businesses around the world, RURO is Laboratory Information Bliss™.
For more information please visit RURO online at http://www.RURO.com