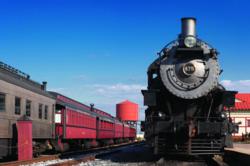 Strasburg, PA (PRWEB) February 14, 2013
Imagine a place where one visit gets you hooked for more, where history comes alive, and where new experiences always delight! The Strasburg Rail Road offers all this with its turn-of the-century steam engines, themed dining experiences and entertaining special events. Returning to Strasburg Rail Road this year are special trains with Peter Cottontail, Thomas the Tank Engine™, Santa Claus and a gang or two of robbers. Strasburg Rail Road is rich with history and boasts one of the most scenic views Lancaster County has to offer. Whether you're a train enthusiast, a child or just young at heart, the Strasburg Rail Road is sure to please.
Strasburg Rail Road is open President's Day weekend (Feb. 16-18), weekends March 9-24 and daily for the season starting March 25.
Strasburg Rail Road's 2013 Special Events:
Easter Bunny Train:
Spring into the season and create Easter memories by taking a ride with Peter Cottontail on a vintage steam train through scenic farmland. Peter will delight boys and girls with an Easter surprise as he greets them on board this special train. Enjoy tasty treats at our trackside restaurant, on our Dining Car, or pack a lunch and enjoy a picnic lunch at Groff's Grove. This event takes place March 29-31, 2013. Visit http://www.strasburgrailroad.com for train times and ticket prices.
The Great Train Robbery:
Get ready for an afternoon filled with adventure, fun and steam trains! Passengers aboard this Strasburg Rail Road train should be on guard for a gang of robbers rumored to be in the Strasburg area. Not to worry, though, law enforcement will be on hand to protect our passengers and see that justice is served. This fun and comical ride will feature adventuresome robbers, lots of "loot" and even entertainment! It's a ride you'll never forget ... but bring your camera to capture the action! This event takes place at the Strasburg Rail Road on April 14, July 28 and Oct. 20, 2013. http://strasburgrailroad.com/great-train-robbery.php
Wine & Cheese Train:
Surrounded by the beauty of Lancaster County's rolling hills and working farms, visitors will relax as they savor the taste of fine wines and cheeses while traveling down the tracks. Wine & Cheese Trains will operate select evenings April - Nov. The $36 fare includes First-Class accommodations on the Parlor Car and complimentary wine, cheese and crackers. Beer, mixed drinks, non-alcoholic hot and cold beverages, snacks and desserts are also available for purchase. For a complete schedule visit http://strasburgrailroad.com/wine-and-cheese.php
NEW Vintage Baseball Day:
Travel back in time to the 19th century as you enjoy a mini-tournament of vintage baseball featuring teams from Elkton, Maryland; Mechanicsburg and West Chester, Pennsylvania; and Flemington, New Jersey. This event takes place May 4, 2013.
NEW National Train Day:
National Train Day celebrates the sense of experience that only trains and train travel can give. Trains touch the lives of people across America in unique ways. While plans are currently under way, the Strasburg Rail Road will feature a special weekend ticket in honor of Nation Train Day. National Train Day is May 11, 2013. Details to be announced soon!
NEW Heritage Day:
Similar to the days of 1959 when the Strasburg Rail Road was given new life by the community, visitors will see the Plymouth engine with one to two coaches available for rides on the half hour throughout the day. While on the train, learn more about key historical milestones of the Strasburg Rail Road during an exclusive on board heritage commentary. This event takes place June 9, 2013. Additional programming to be announced soon!
Day Out With Thomas™:
All aboard Thomas the Tank Engine™, a full-sized operating steam locomotive, as he chugs into Strasburg Rail Road three times this year. Ride a train pulled by Thomas, meet Sir Topham Hatt™, enjoy many other exciting activities, and shop a complete selection of Thomas merchandise in the gift shop. This event takes place at the Strasburg Rail Road June 15-23, Sept. 14-22, and Nov. 22-24, 2013. Order tickets by visiting http://strasburgrailroad.com/day-out-with-thomas.php or by calling 1-866-468-7630.
The Rolling Antique Auto Show & Run:
Be part of reliving automotive history at the Strasburg Rail Road! We're transforming the railroad into an interactive antique auto show, featuring historic cars on display and in action. Watch as they race alongside the mighty steam train. This event takes place July 20, 2013. For train times and details visit http://strasburgrailroad.com/the-antique-auto-show-run.php.
NEW Steampunk unLimited:
A juxtaposition of art and invention, creativity and technology while paying homage to the Victorian Era and Industrial Revolution, an unprecedented weekend at the Strasburg Rail Road is announced. Train rides behind a massive steam locomotive, delicious eats and treats, steampunk handiwork, photo opportunities galore, an insider's look through a shop tour, music reflective of days gone by, and so much more are just a snippet of the weekend's events. This event takes place Nov. 16-17, 2013. Stay tuned as additional programs and details are announced!
Santa's Paradise Express:
Santa's Paradise Express brings the magic of this Christmas season to thousands of families who visit Strasburg Rail Road each winter. Transformed into a winter wonderland, Strasburg Rail Road invites families to enjoy a train ride with Santa, carolers and musicians on the mall, storytellers and much more. This event takes place Nov. 29 – Dec. 1, Dec. 7-8, 14-15, and 21-22, 2013. For details and train times visit http://strasburgrailroad.com/santas-paradise-express.php
The Night Before Christmas Train:
The Night Before Christmas Train runs on three Friday evenings during the holiday season. This very unique and special train recreates the excitement and anticipation of Christmas Eve. Aboard each car, a reader dressed in a Victorian nightshirt and cap will read Clement Clarke Moore's classic poem, The Night Before Christmas, as passengers enjoy cookies and milk while the train rolls along. Children are also treated to storybook readings of holiday classics aboard our Caboose (stationary) and visitors of all ages can enjoy a ride aboard the Tinsel Trolley, a self-propelled motor car. The event runs Dec. 6, 13 and 20, 2013 at 7:00 pm. For details visit http://strasburgrailroad.com/the-night-before-christmas-train.php
About Strasburg Rail Road:
Strasburg Rail Road is one of Pennsylvania's leading family attractions and is home to museum quality, working, turn-of-the century steam locomotives, freight cars, dining cars, private cars and one of the largest fleets of historic wooden passenger cars in the world. Founded in 1832, Strasburg Rail Road also holds the unique distinction as being America's oldest short line railroad.
The 45-minute train ride departs daily from Strasburg station. Passengers can choose to ride Coach, First-Class, Open Air or the Dining Car. Plus, ride on the miniature Cagney steam train, the authentic Pump Car, or take a behind-the-scenes tour to see steam engines being built, restored and refurbished. Strasburg Rail Road has a number of value passes including the brand new Summer Fun Pass, the Rail Baron Pass and the Day Pass.
For more information on the Strasburg Rail Road or to purchase tickets, please visit http://www.strasburgrailroad.com, or call 717.687.7522