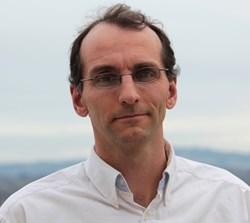 David will be leading EAI in a highly focused effort to support building professionals with tools to create better buildings.
Portland, OR (PRWEB) February 14, 2013
On Monday, January 28th the EAI board of directors appointed David Heslam as the organization's new executive director. David had been serving as interim executive director since November 1, 2012 when Sean Penrith became lead of the CakeSystems™ spin off effort. CakeSystems is EAI's popular energy auditing software. Mr. Penrith was successful in creating a C Corporation for CakeSystems and establishing interest among regional angel investors before leaving to pursue other professional interests.
David had previously served as the director of business development at EAI, spearheading the advancement of both the Energy Performance Score (EPS) metric and CakeSystems software. David joined EAI in 2008 and led Earth Advantage's involvement in the 2008 EPS pilot study funded by Energy Trust of Oregon. He has over 14 years of residential construction experience including 9 years as founder/owner of Coho Construction Services, Inc., an award-winning green building firm in Oregon. Prior to working in the field of construction, David was a health economics researcher at the Urban Institute in Washington, DC. He has a BS in economics from Carleton College.
David inherits a unique nonprofit model that he helped co-develop with EAI's management team. EAI operates more as a hybrid between a traditional nonprofit and a for-profit enterprise, using internal entrepreneurial innovation to develop new ideas that are then incubated and potentially launched as free-standing entities. Within the context of this nonprofit model, David will be leading EAI in a highly focused effort to support building professionals with tools to create better buildings. EAI Board Chairman Steve Vincent commented, "David's contribution in developing new sustainable building and energy conservation services has made EAI a national leader in this space. As a board we are confident in his ability to grow the business and lead a team of extraordinarily dedicated individuals."
Earth Advantage Institute is excited to expand its impact over the next few years under David's leadership and work closely with other organizations that have mutual goals. Clark Brockman, principal at SERA Architects said, "I believe David will make an excellent executive director at Earth Advantage, with deep construction and green building knowledge while exhibiting long-term commitment to leadership within the movement." At Green Building Services, Principal Ralph DiNola also commented, "I am excited to hear that David Heslam has been appointed executive director of Earth Advantage. David is a great convener and collaborator and brings many years of practical experience and know how from the construction field to this new position. I look forward to seeing how David takes Earth Advantage to even greater heights as a leader among sustainable development organizations."
About Earth Advantage Institute
Earth Advantage Institute designs tools to create better buildings. Their work focuses on three main activities: education, certification, and research and consulting. EAI supports all participants in the building sector, from real estate professionals and contractors to architects and developers. EAI's vision is a building industry in harmony with the built environment. Earth Advantage Institute is in its 8th year since being launched by Portland General Electric in 2005 with a staff of 25, headquartered in Portland, Oregon.
For more information contact:
Erik O. Cathcart
Director of Marketing & Strategy
marketing(at)earthadvantage(dot)org
(503) 968-7160 x21