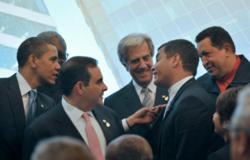 We are friendly countries, sister countries. We coincide on many points of views.
Quito, Ecuador (PRWEB) February 14, 2013
This coming weekend it is Ecuador's turn to elect the former or a new president. According to pre-election polls, Correa, the current president, is likely to start into his third and therefore last presidential term. During Correa's six years of presidency, he has worked towards more cooperation between South American nations and against greater influence of the United States in the country. During the attendance of a New York Conference in 2009, Correa said about this Latin American alliance, "we are friendly countries, sister countries. We coincide on many points of views. So why not take that step towards integration […]?"
Infrastructure and transportation upgrades, for example the improvement of roads or the launch of new flight routes between Ecuador and Venezuela, Peru and Colombia, have been realized within Correa's presidency.
Now that all these positive developments towards more cooperation, liberation and collaboration between many Latin American countries are happening, the Quito based adventure tour operator Gulliver Expeditions has seized the change to launch two brand new cross-border products which combine Ecuador with either Peru or Colombia.
The tour that extends to Peru includes first the Avenue of Volcanoes in Ecuador's Andes and then Lima and Cusco in Peru, where from the latter a tour to Peru's archeological and cultural heritage, the Machu Picchu, is undertaken. Colombia with its colonial heritage and white sandy beaches can, as another option, be combined with the beautiful Avenue of Volcanoes where Ecuador's highest volcanoes and high plains with its diverse flora and fauna can be found. Cities like Bogotá, the capital with its numerous heritage sites, Medellin in the valley of Aburra, and Cartagena on Colombia's north coast are part of this cross-border journey.
Finally, as during Correa's two presidential terms infrastructure and transportation developments in South America have made several countries more accessible for incoming tourists, it is now time to avail oneself of this fantastic opportunity of exploring respectively two South American countries in only one tour by travelling with a safe and experienced tour operator, such as Gulliver Expeditions or other.
About Gulliver Expeditions
Gulliver Expeditions, Quito based tour operator and agency, specializes in adventure travel Ecuador, including climbing and hiking tours in the Avenue of the Volcanoes and the highlands. They also offer cultural sightseeing, biking tours, horseback riding, jungle trips and once-in-a-lifetime cruises to the Galapagos Islands, as well as tailor-made itineraries for trips across the whole country.
Every one of Gulliver's Ecuador tours intergrates high-quality, personalized service, competitive prices, high standards in safety procedures as well as professional, qualified guides.
For more information contact Gulliver on http://www.gulliver.com.ec, mail to info(at)gulliver.com.ec or call +593 (2) 2529297 or +1 (347) 535 066.