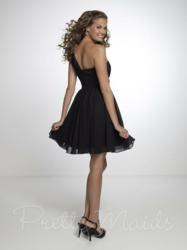 There is a growing trend toward lace.
(PRWEB) February 14, 2013
Pretty Maids is ramping up for the fall season with some predictions on coming trends for bridal parties. While the Pretty Maids collection of bridesmaid dresses offers versatility and individualized customization options in length, color, and fabric, there are a few key fashions that will be seen in the coming season. Designs will offer figure-flattering looks, with some new prominent fabrics and colors for fall.
The Pretty Maids collection anticipates more color than seen in the recent winter weddings. Deep greens like emerald, warm hunter green, and popping hues of red will be favored. While it has been a rare fabric used on bridesmaid dresses, there is a growing trend toward lace among both bridesmaids and bridal gowns. Chiffon will remain a popular choice for bridal parties, combined with lace and netting to create new couture looks.
Short and sassy skirts, low backs, and one-shoulder styles will be favored trends that will continue from the spring season. Pretty Maids Spring 2013 style 22551 embodies this ever-growing elegant yet playful look that will carry over into the fall. To browse this and more bridesmaid dresses from the Pretty Maids collection, visit prettybridesmaids.com.