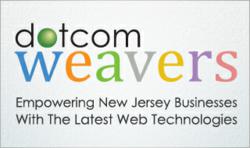 Paramus, New Jersey (PRWEB) February 14, 2013
The New Jersey website designers and developers at Dotcomweavers recently helped bring the centuries-old business model of providing under-served customers with practical solutions to their paper-purchasing problems into the 21st century. Paterson Papers, a family owned paper products distributor partnered with Dotcomweavers in order to stay on the leading edge of technology in the paper, graphics and printing industry. With the launch of their new website, they are once again moving beyond the competition.
Paterson Papers originally worked with Dotcomweavers over a year and a half ago for the launch of the website for their retail division of their company. The website was targeted towards Paterson Papers retail customers, giving them the convenience of shopping for quality paper products from their desks. It featured a comprehensive listing of all the products stocked by the company and the functionalities of the website allowed visitors to easily find and order the exact product they were looking for.
After seeing phenomenal success with that project, Paterson Papers returned again to enlist the services of Dotcomweavers to redesign, revamp, and re-launch the website for their more corporate, parent company. Dotcomweavers created an aesthetically pleasing, easy-to-navigate website for Paterson Papers that the owners can easily manage without much technical know-how. The robust CMS included with the site allows for complete control over site orders, forms, customer data, pricing, invoicing, weekly specials, product promotions and much more. Furthermore, the added analytics software on both of the websites helps provide great insight into visitor traffic and behavior on the website. This better enables the Paterson Papers organization as a whole to make better and much more informed business decisions regarding their product offering.
On the content development side, the web design team at Dotcomweavers established a clear flow of communication on the corporate site in order to turn the website visitors into better informed consumers of fine paper products. Aside from prominently featuring the services and products of Paterson Papers, the website also includes several user-friendly sections aimed increasing visitor engagement. These sections include the Paper Glossary, Envelope Specifier, Quotes, Online Ordering, Sample Department, and Credit Application
As a direct result of the revamp, ordering from the Paterson Papers 'website has never been easier. It is now very simple and quick, requiring only a couple of clicks. The new website is open for business and is positioned to draw in more customers while simultaneously making it easy for them to choose Paterson Papers as their supplier
About Paterson Papers
Paterson Papers is an independent, family-owned paper distribution company for established in Paterson, New Jersey in 1914. The company is committed to providing quality products, superior service and timely delivery in a cost-effective, ethical and professional manner to their customers in the Metropolitan New York and New Jersey business community. Through four generations, they have become a recognized leader in the industry, successfully helping their clients increase their competitive edge by providing fine paper products and supplies at fair and competitive prices.
About Dotcomweavers
Dotcomweavers Inc. is a Paramus, New Jersey-based web development company that focuses on advancements in Internet technology to provide attentive service and solutions for cutting-edge businesses in New Jersey and New York: web development, website design, e-commerce and internet marketing (SEO). Visit http://www.dotcomweavers.com or call (888) 315-6518 for more information about New Jersey website design and web development services provided by Dotcomweavers.