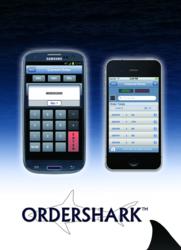 We're making it as easy as possible for sales reps and customers to use the best technology.
CHICAGO, IL (PRWEB) February 15, 2013
Software solution provider Ai2 today announced that City Wholesale Grocery of Birmingham, Alabama will deploy Ai2's OrderShark smartphone order entry app to its retailers. OrderShark is designed for a BYOD - Bring Your Own Device - approach to retail order entry in convenience store and other distribution verticals.
The move marks an expansion of City Wholesale's partnership with Ai2 - an alliance designed to improve the selling experience for City's outside sales staff and make it easier for City's customers to place regular re-stocking orders. "It's an honor to be able to help City Wholesale give their customers the best possible experience," said Douglas Katich, CEO for Ai2. "We want to make it as easy as possible for their reps and customers to use the best possible technology and improve the sales process."
Using the smartphone's camera, OrderShark scans any barcode type from any angle using fast proprietary scanning technology developed by Ai2. The app reads all existing UPC types as fast as a Telxon as well as QR codes. OrderShark handles all existing Telxon symbologies for distributors who use Telxons. Users in a retail environment can view, edit, retain and copy previous orders. The OrderShark system provides the status of all orders including confirmation that an order was received by the host. Orders are logged in the device for safekeeping and easy access. Orders are sent over WiFi or cellular networks. OrderShark supports international language sets for multilingual use.
OrderShark mirrors a distributor's existing Telxon interface, which shortens a distributor's deployment time. According to Ai2, a distributor or retailer need not purchase any new computer hardware or fret about complicated deployment logistics. Users simply download OrderShark from the Apple or Android app store to their existing smartphones or iPods, enter a specifically assigned confirmation number and begin building their orders immediately.
Since 1926, when they began as a co-op, City Wholesale has strived to bring retailers quality products at fair prices. Almost 80 years later they remain proud of their tradition and their quest for improvement. In the past eight decades, City has grown from a tobacco & candy distributor to a company that supplies convenience style items to over 1,100 locations. As the wholesale business has changed, they have changed with it - delivering pre-made frozen pizza, toys for kids, 37 different types of Hershey products, tea in a plastic bottle and thousands more items. City also has a training team to demonstrate cooking methods. For more information, visit City Wholesale's website.
Ai2 was founded in 1986 and is headquartered in downtown Chicago. More than 75,000 users use Ai2 solutions each day to capture upwards of $75 billion in annual sales. More than 10,000 retail stores and more than 1,000 movie theaters use Ai2 solutions for their order entry needs. Ai2 improves the sales process for some of the world's largest distributors in foodservice, convenience store, grocery, beverage, hardware, medical, beauty products, jewelry and more. For more information about Ai2, visit Ai2.com.