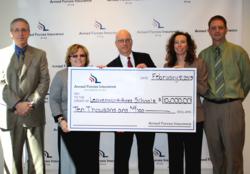 Leavenworth, KS (PRWEB) February 13, 2013
Armed Forces Insurance (http://www.AFI.org) announced today its' support of the local area school districts with donations totaling $10,000. Leavenworth USD 453, Lansing USD 449, Easton USD 469, and the Leavenworth Catholic School System, each received a donation in the amount of $2,500.
"We take providing exceptional personal service and competitive rates to those who serve and their families very seriously," Kurt Seelbach, President and CEO, Armed Forces Insurance said. "But our commitment does not end there. We also feel that we have an additional responsibility to give back to the military and local communities that support us. Because at Armed Forces Insurance, it's not just a policy, it's a policy of giving back."
Armed Forces Insurance has always supported various school activities through random small donations. This year, each district was presented with a larger donation, allowing the allocation of the funds to be at each district's discretion.
About Armed Forces Insurance
AFI was founded in 1887 by military leaders with a single mission: to protect the property of those who protect our nation. The company provides premium quality, competitively priced property and casualty insurance to military professionals throughout the United States and overseas. AFI understands that its members have unique circumstances and insurance needs, enabling the company to offer a level of personalized service that's unequaled in the industry. For more information, visit the website at http://www.afi.org or call 1-800-495-8234.