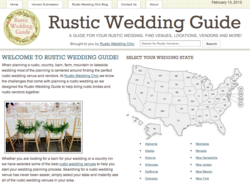 The Rustic Wedding Guide sprang out of the questions I get for my 'Ask Maggie' column on RusticWeddingChic.
(PRWEB) February 14, 2013
RusticWeddingChic, the #1 online resource for brides planning rustic and country weddings, today announced the launch of the Rustic Wedding Guide, a searchable online database and venue guide to help brides in any region of the country plan their weddings. The first-ever compilation of its kind, the Rustic Wedding Guide features hundreds of listings for outdoor, rustic, barn and country wedding venues and will feature vendors such as bakers, caterers and florists in the coming months.
"The Rustic Wedding Guide sprang out of the questions I get for my 'Ask Maggie' column on RusticWeddingChic," said wedding expert and RusticWeddingChic founder Maggie Lord. "I was getting dozens of questions about how to choose the right venue in a particular area. I try to answer every 'Ask Maggie' question individually, and was accumulating lots of great venues that I could see many brides benefitting from. The guide grew from there."
Brides who visit the Rustic Wedding Guide can select their state and from there will be presented with a list of selected venues from their region. Each listing features photos, contact information, map and a venue write-up that provides insight into the spot to help brides narrow down their choices and give them venue ideas. The guide also allows comments on each entry to provide user insight into the venues and vendors.
The Rustic Wedding Guide is the perfect companion to RusticWeddingChic, which provides ideas, tips, projects, fashion and other news for the rustic and country wedding bride. Together, the sites present a complete planning guide for brides across the United States.
About RusticWeddingChic
Rustic Wedding Chic has become the wedding blog of choice for brides planning a rustic or country wedding. Launched in May of 2009, Rustic Wedding Chic inspires and guides couples with a daily muse of photography and information along with a curated directory of resources, the very popular "Ask Maggie" feature, a "How To" with DIY projects, etiquette advice and helpful articles. Rustic Wedding Chic loves to showcase "real" weddings- filled with creative, dreamy and inspiring photos. Rustic Wedding Chic is the inspiration for a collection of rustic wedding favors and goods offered at the Whispering Pines catalog online store. The Rustic Wedding Chic book is in stores now and the second book, Barn Weddings, will be in stores Fall 2013.