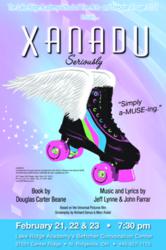 North Ridgeville, OH (PRWEB) February 15, 2013
Roller disco mania meets Mt. Olympus as the Upper School proudly presents Xanadu. This hit Broadway musical is based on the cult classic movie of the same name, which starred Olivia Newton-John and Gene Kelly. Xanadu follows the journey of a magical and beautiful Greek muse, Kira, who descends from the heavens of Mt. Olympus to Venice Beach, California in 1980 on a quest to inspire a struggling artist, Sonny, to achieve the greatest artistic creation of all time - the first roller disco (Hey, it's 1980!). But, when Kira falls into forbidden love with the mortal Sonny, her jealous sisters take advantage of the situation and chaos abounds.
The hilarity skates along to the original hit score composed by pop-rock legends Jeff Lynne and John Farrar (of Electric Light Orchestra). The songs include, "Magic," "All Over The World," "Suddenly," "I'm Alive," "Evil Woman," "Have You Never Been Mellow" and "Xanadu," to name a few.
It's hilarity on wheels for adults, children and anyone who has ever wanted to feel inspired. Join our Upper Schoolers as they weave a moving, electrifying tale of endless fun that will keep you in stitches. You'll want to keep the music in your head, and Xanadu in your heart forever.
February 21-23 at 7:30 p.m in the Bettcher Convocation Center.