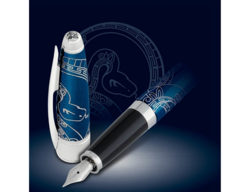 "Like characters in a play, each of my favorite fountain pens has its appointed time for entry onto the scene, its roles to play, its lines to present…"
– J. Norman Reid,
Valued Fahrney's Customer
Washington, D.C. (PRWEB) February 20, 2013
Epitomizing quality and style for which Cross is renowned, these stunning writing instruments are the ultimate style statement inspired by the wisdom, beauty and spirit of the Year of the Snake. This is the second entry in the Chinese Zodiac series, which began in 2012 with the Year of the Dragon. Cross pen collectors and users have the chance to begin their Zodiac collection with these fine Cross pens.
According to the Chinese Zodiac, individuals born in a Year of the Snake are intuitive, intelligent and wise, thriving on new ideas and innovative thinking. They are great thinkers, intense, passionate, inspirational and perceptive. The stylish Cross Year of the Snake pen is the perfect writing instrument to ignite ideas, release creativity, and inspire thoughts beautifully without interruption with Cross pen refills.
Meticulously crafted, the Cross Year of the Snake collection features a delicate snake design, deeply etched into hand-polished lacquer in translucent blue or high gloss black, decorated with rhodium plated detailing. Each Cross pen is presented in a luxury gift box with a removable presentation stand so that the pen can be displayed with pride. The Collection is available in ballpoint, rollerball or fountain pens with solid 18 karat gold, rhodium plated nib, which is decorated with details from the snake body engraving.
The Year of the Snake Collection would make a great gift to friends and family. Be certain to check into the special edition Year of the Snake Collection before they're gone. For more information on the Year of the Snake collection please visit the Fahrney's Pens website.
Known as the "Write Place", Fahrney's Pens is the Nation's premier source for fine writing instruments and accessories including pens, pencils, refills, stationery, watches, leather gifts and more. Offering pen expertise since 1929, including custom engraving and pen repairs from the "Pen Doctor", Fahrney's is a family-owned business with a commitment to its customers that has been rewarded with unparalleled loyalty. Visit FahrneysPens.com