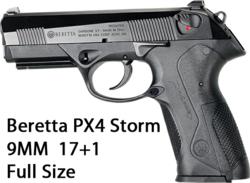 Major rush to purchase guns, any gun.
Phoenix, Arizona (PRWEB) February 15, 2013
"With everyone and his neighbor being afraid that the ban will keep people from owning any firearm, the massive high capacity hand guns like the Beretta PX4 Storm, is becoming the most popular guns being sold," says Best West Direct General Manager, Dennis Dahlberg.
According to Dahlberg, the Beretta Px4 with its large 17+1 round capacity is high up on the hit list that the government wants to ban.
"What little inventory we have are moving fast, at normal retail prices, no discounts, and we are running out of items to sell," bemoans Dahlberg, who has admitted spent the majority of his time talking to major distributors, who are having the same problem… not having enough guns to satisfy the demand.
The full size PX4 Storm in a 9MM is capable of holding 18 rounds (17 in the magazine and 1 in the chamber). These high capacity guns are the type of weapons that the Obama Administration want to Ban and everyone wants one. The PX4 Storm 17+1 are currently banned in New York and Massachusetts.
Media Contact Information:
Dennis Dahlberg
Best West Direct, Distributor of Beretta Firearms
23335 N 18th Drive Suite 120
Phoenix AZ 85027
http://www.berettaonly.com,
623-582-4444