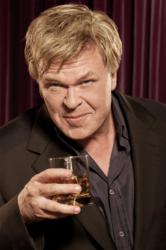 Worcester, MA (PRWEB) February 19, 2013
Ron White returns to The Hanover Theatre for the Performing Arts as part of his national tour, A Little Unprofessional, on Saturday, March 9 at 7pm. Tickets and VIP seats are on sale now.
Comedian Ron "Tater Salad" White is best known as the cigar-smoking, scotch-drinking funnyman from the "Blue Collar Comedy" phenomenon. White has always been a classic storyteller. His routines relay tales from his real life; ranging from growing up in a small town in Texas to joining the ranks of some of the most successful comedians in America.
As a two-time Grammy nominee with a gold record, White holds three of the top rated-one hour specials in Comedy Central's history, and has sold more than ten million CDs and DVDs. He has expanded into film with appearances in "Horrible Bosses" and "Sex in the City 2." He became a New York Times best-selling author with "Tater Salad White: I Had the Right to Remain Silent…But I Didn't Have the Ability."
Ticket prices are $39.50, $44.50 and $61.50* with limited VIP seats available for $190.50, including a premium seat in the first three rows, Q&A session, a photo opportunity, VIP access pass personally signed by White and 1 month free Ron White Fan Club Membership. Tickets are available online at TheHanoverTheatre.org, by phone at 877.571.SHOW (7469) or at The Hanover Theatre Box Office located at 2 Southbridge Street in downtown Worcester.
For more information on Ron White, please visit TaterSalad.com.
About The Hanover Theatre
The Hanover Theatre for the Performing Arts, located in downtown Worcester, New England's second largest city, is recognized by Pollstar as one of the top 50 theatres in the world. After undergoing many name changes and renovations over the decades since its 1926 birth, The Hanover Theatre reopened in March 2008 following a $32 million historic restoration. Since then, the theatre has established its place as a rich entertainment and cultural venue, winning numerous awards, including The National Trust for Historic Preservation Award in 2010. Now in its fifth season, The Hanover Theatre continues to expose over 170,000 annual patrons to world-class entertainment in the form of Broadway, concerts, comedians and much more. For more information, visit TheHanoverTheatre(dot)org. Worcester Center for the Performing Arts, a registered not-for-profit 501(c)(3) organization, owns and operates The Hanover Theatre for the Performing Arts. All donations are tax deductible to the fullest extent allowed by law.
*Ticket prices are subject to change without notice.