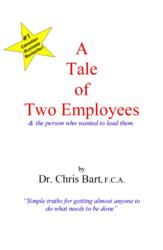 A Tale of Two Employees is a must-read for every entrepreneur, manager and would-be leader.
Hamilton, ON (PRWEB) February 15, 2013
Ten years after McMaster University professor and bestselling author Dr. Chris Bart wrote "A Tale of Two Employees", the workforce is in a radically different place, but the leadership principles in Bart's ten-year bestseller remain the same.
Indeed, while 90% of all organizational failures are due to poor strategy execution, the root cause is generally attributed to the leader's failure to align employee behaviors with that strategy. A Tale of Two Employees shows how to solve this problem. The book's parable centers around Tom, a first-time manager in a large corporation. When the company writes its Mission Statement emphasizing the importance of customer service, it is up to Tom to ensure that his two employees, Rick and Harry, do their part to make the statement a reality for the customers they deal with.
When the first customer surveys return after the new Mission Statement has been implemented, Tom is stunned that most of their customers marked down "Dissatisfied" with their interactions with Rick and Harry. Did they not understand the company's new philosophy?
Unsure what to do, Tom goes to meet with his mentor, company veteran Fred, who introduces him to what Tom later calls "The Don't Know Theory of Leadership", which claims that there are only five reasons why employees might not do what needs to be done to implement a firm's strategy. Moreover, Bart's ideas are so robust that he has proclaimed there are only five reasons to explain why anyone isn't doing what you need them to do, and this includes insensitive boyfriends/husbands, meddling mothers-in-law and insolent teenagers.
A Tale of Two Employees is an effective guide for first-time and experienced managers alike looking to become better leaders by fostering peak performance from their employees in implementing their firm's strategy. The book derives its power from the simplicity with which Bart has demonstrated the principles he advises all managers to apply from the start. Because of this, the book has earned rave reviews in its ten-year tenure on the Canadian Business Bestseller List.
Gil Bennett, former Chair of the Board for Canadian Tire, writes "A Tale of Two Employees is a must-read for every entrepreneur, manager and would-be leader. The book's genius derives from Dr. Bart's ability to demystify the process by which a leader can successfully execute the most critical leadership task: getting people to do effectively what needs to be done."
Ron Foxcroft, President and Founder of the famous Fox 40 Whistles writes: "As an entrepreneur, the book taught me so much! It inspired me to be a better leader. And it shows that, in business, it is vital to never give up. I think this book is an excellent template for anyone interested in implementing their mission and wanting to make it come alive. It's what everyone who develops a mission statement needs to know!"
-
Dr. Chris Bart is currently a Professor of Strategic Market Leadership (Strategy & Governance) at the DeGroote School of Business, McMaster University, Hamilton, Ontario as well as the Founder, Principal and Lead Professor of The Directors College – offering Canada's first and only university accredited director certification program.
His latest book, "20 Essential Questions Directors of Non-Profit Organizations Should Ask About Strategy", has already received critical acclaim from business and non-profit leaders across Canada and made the Top 10 Business Books Best Sellers list for 2012.
For review copies or interview requests with Dr. Bart, please contact Raven Cook, raven(at)fpm3(dot)com.