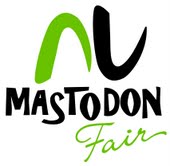 "The Mastodon Fair's Family day is an amazing, FREE and fun way to spend a morning with your family learning cool science, doing amazing art and visiting with the area's top student artists and scientists!" said Jill Malcom- Executive Director
Jefferson county, MO (PRWEB) February 20, 2013
Event: Mastodon Fair Premier, March 23, 2013
The Mastodon Fair is quickly approaching and will be here before you know it! The Mastodon Fair is an art and science competition for children in grades K-12 from area public, private and home schools. Now in its 34th year this annual competition is hosted by Jefferson College at their Field House on the Hillsboro, MO campus.
The fair will be open to the general public on Saturday, March 23, 2013 from 9AM to Noon for the Mastodon Premier. This free event is an opportunity for the public to view the over 1000 art and science entries and meet some of the talented students who created them. Additionally there are numerous art and science themed hands-on activities for everyone to enjoy, most of them free of charge.
Past favorites returning this year include Jefferson County Partners Responsible 4 Increasing Drug Education, and Tandy Leather with unique leather stamping art. Also, bring a gently used pair of shoes to donate and Shoeman Water Projects will show you how that donation will help to create clean water for impoverished people around the world.
New activities this year include the Monsanto Science Education Outreach which will show kids how to make slime, inflate a balloon with dry ice, and then the put a stick through the balloon without popping it. Washington University will be brining the MySci Investigation Station, a 37 foot long trailer filled with exhibits and experiments focusing on Missouri woodlands and caves for kids to explore. Julie Snidle Art Studios will be demonstrating how to create art with beeswax. The newly formed South County Youth Robotics Club will be displaying some of their recent projects. And Serengeti Steve's Reptile Experience will also be a new participant at this year's event. So come meet some really cool reptiles up close!
The Jeffco Business Network will also be hosting the Dinosaur Egg Hunt again this year at the Mastodon Premier. This dinosaur egg hunt is a perennial favorite for all ages. For a nominal fee of $5.00 each person can hunt for 3 eggs and every egg can be turned in for a variety of prizes each worth $5 or more.
For more information, visit the new and improved Mastodon Fair website at http://www.MastodonFair.org .
The Mastodon Fair is a 501(c)3 non-profit organization that started in 1979 for the purpose of using competitions to encourage the art in science and the science in art. Hosted at Jefferson College in Hillsboro, over 1,000 K-12th grade Art and science students compete for more than $55,000 in prizes, trips and scholarships. Winners from the Mastodon Fair compete internationally.