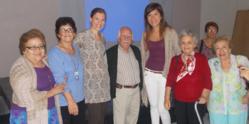 The tourism group Sunset World Resorts & Vacation Experiences awarded the winners of the "Estrellas por Naturaleza" contest
Cancun, Quintana Roo (PRWEB) February 14, 2013
The tourism group Sunset World Resorts & Vacation Experiences awarded the winners of the "Estrellas por Naturaleza" contest, organized jointly by this group, Fundacion Televisa, the main national TV network, and Volaris, one of Mexico´s most important airlines, for the third time, searching to promote creativity and socialization between members of the "Club de los Años Dorados".
This year's slogan was Teachings for a New Era, and the categories were: poetry, singing, musical theater and storytelling. The awards included attractive prizes as lodging certificates on the hotels of the Sunset World Group in Cancun and Riviera Maya.
Annie Arroyo, Brand and Communications Director and Genoveva García, Public Relationships Manager of the group handed the awards. They thanked the contestants for their effort and motivated them to keep showing their talent and dedication for the next edition of this contest that will take place at the end of this year.
The award ceremony counted with the assistance of Tulio Arroyo, son of Angelita Marroquín, founder of the "Club de los Años Dorados". On his intervention, Arroyo emphasized the pleasure of seeing the enthusiasm and talent the members of the club show, as well of their will to live their life to the fullest and their wish of being an example for the next generation.
The contest took place at the Moonlight Theatre of the Sunset Royal Beach Resort a few weeks ago, with the assistance of VIP guests like the television actor Otto Sirgo, actresses Raquel Olmedo and Lucero Lander and singer Barry Ivan White. In this edition of the contest, the jury picked the runner-ups on each category, while the winners were chosen by the people on the social networks by voting.
This celebration gathered more than 150 members of this elder's club, created a decade ago by Sunset World Group. The public with its cheers encouraged the contestants to show their artistry on this emotional event. This year's event presented the performance of Barry Ivan White, former lead singer of The Platters, who interpreted the greatest hits of his career.