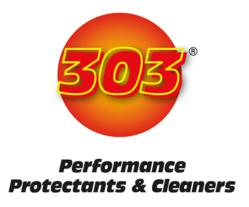 "Show your car that you really care this Valentine's Day by protecting and preserving its every surface inside and out," said Marc Blackman, CEO for Gold Eagle Co.
Chicago, IL (PRWEB) February 14, 2013
Valentine's Day is a time to demonstrate love and passion, and when shopping for chocolates and flowers, don't forget to shop for the other true love in life, your car. From classic cars to vintage or sports cars, 303® Products, maker of leading protectants and cleaners, understands this passion and has developed some great ways to keep cars happy and sparkling this Valentine's Day and through the final weeks of winter.
"Show your car that you really care this Valentine's Day by protecting and preserving its every surface inside and out," said Marc Blackman, CEO for Gold Eagle Co. "The colder months can put a lot of stress on your car, but with a little tender loving care, you can get your car in shape and ready for spring."
Winter can be tough on cars. Salt is corrosive, and after time, it can eat away the paint on vehicles, lead to rusting problems on the frame and even damage to the undercarriage. Plus, the inside can suffer from all the moisture and dirt that is constantly tracked inside. So, whether it's protecting the outside from the harsh salt or inside from moisture and dirt, show some affection by shielding your car from the elements.
Make Cars Shine on the Outside:
While diamonds may be reserved for human love, cars can still sparkle and shine with a protectant like 303 Aerospace Protectant. 303 Aerospace Protectant is not only the No. 1 product for protecting a car's internal surfaces from the sun's harmful UV rays, but it's also great for a car's tires and headlights. The protectant can be applied to tires and headlights to create a smooth surface, enabling rain and snow to glide off with ease, which is especially useful on the headlights for nighttime visibility. And, to avoid being blinded by your car's beauty, see clearly by using 303 Instant Windshield Washer Tablets. Simply add a tablet of this nontoxic, biodegradable product to a car's antifreeze to increase the cleaning power by three times the amount of ordinary windshield cleaner, which is ideal for winter's harsh elements.
Give it that Special Touch on the Inside:
While you can't literally give a car a hug, embrace it by keeping it looking its best on the inside. Using a product like 303 Fabric & Vinyl Cleaner helps to clean fabrics, upholstery, carpet and vinyl with a nontoxic, biodegradable solution that rinses residue free. And, if you accidently spilled something on the beloved's upholstery, 303 Cleaner & Spot Remover quickly removes stains on even the toughest of surfaces. Once carpets and seats are clean, use a fabric guard like 303 High Tech Fabric Guard to help resist soiling, impede mildew formation and restore water repellency to factory new levels. This product also helps to seal it, so your car can brave the remaining weeks of winter.
For more information on 303 Products and ways to spoil your car this Valentine's Day, please visit 303Products.com or join in the conversation on Facebook at Facebook.com/303Products.
About Gold Eagle Co.
For 80 years, Gold Eagle® Co. has been an industry pioneer in the production and distribution of aftermarket fluids and additives. We create products that help preserve, protect and enhance the performance of engines everywhere. We are a leader in the product development, manufacturing, marketing, and distribution of branded engine performance and maintenance chemicals. Privately held and headquartered in Chicago, Gold Eagle Co. is the manufacturer of leading brands, including STA-BIL® Fuel Stabilizer, HEET® Gas-Line Antifreeze, NO LEAK® Treatments, 104+® Octane Boost, Start Your Engines!®, DieselPower!® Diesel Additives, 303® Aerospace Protectant and 303® Fabric Guard. To view our complete line of Gold Eagle products or learn more about the Company, please visit goldeagle.com or "like" our Gold Eagle Co., STA-BIL, Start Your Engines! or Engine Answerman pages on Facebook. For product questions, please call us at 800-621-1251 or follow us on Twitter @GoldEagleHelp.
All trademarks, service marks and trade names, including STA-BIL®, HEET®, Start Your Engines! ®, NO LEAK®, ALUMASEAL®, Gold Eagle®, DieselPower! ®, Golden Touch®, 104+®, Cool Rides Online®, 303® Aerospace Protectant and 303® Fabric Guard used herein are trademarks or registered trademarks of Gold Eagle Co. The aforesaid families of related marks, images and symbols are the exclusive properties and trademarks of Gold Eagle Co. Any other product or company names mentioned herein are the trademarks of their respective owners.