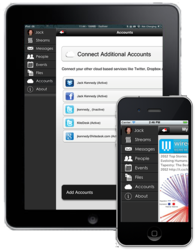 We believe that KiteDesk will offer a tremendous value proposition to our users who are looking for a more integrated cloud experience.
Tampa, FL (PRWEB) February 14, 2013
The web version of KiteDesk exited beta today and the company launched a mobile app for iOS users. KiteDesk, which is free on the web and for mobile, unites content from the most popular messaging, collaboration and social media services in a single searchable, shareable, commentable application. Easy to use and customize, KiteDesk is designed for busy consumers and professionals who use multiple cloud services. KiteDesk mobile can be found here.
KiteDesk brings users their favorite cloud services together in one application, so they can spend more time communicating and less time flipping between apps. Email messages, social media posts, contacts, files and calendar events from Dropbox, Facebook, Google, Twitter and Yahoo (Facebook and Yahoo integration are new since the public beta launch in Oct 2012) can be accessed, integrated, searched and shared, right from KiteDesk's web or mobile application.
KiteDesk can be customized to create contextual cross-service streams for things like "home remodel" or "work project," based on easy to set up tags and search terms. Streams appear as graphical file cards that identify when, for instance, a Twitter post was made, by whom and about what. Users can click cards to drill deeper or respond. The result is a single inbox, calendar, contact list and file cabinet for cloud services, simplifying access to users' important information.
KiteDesk Main Features

Connect - All cloud service accounts in one space
Streams - The information organized into contextual streams
Messaging - Unified messaging with email and social in one inbox
People - Manage contacts from all services in one place and see a complete history of emails, posts and files shared with each person in one view
Events - All events and appointments, fully editable with rich details and links to personal streams for all attendees
Files - Quickly find, review and share files from different cloud-based file services
Search - Search across all your accounts at one time, including social
Unity - Web and mobile apps work together
"We are excited to announce availability of both our web and native iOS applications which work in concert to act as your Personal Cloud information manager on any device," said Jack Kennedy, co-founder and CEO at KiteDesk. "With the addition of Yahoo and Facebook integration and more services like LinkedIn underway, we believe that KiteDesk will offer a tremendous value proposition to our users who are looking for a more integrated cloud experience."
About KiteDesk
KiteDesk lets users stay connected to the cloud by linking together the content from all accounts, allowing users to aggregate, integrate and navigate through personalized streams of information. KiteDesk is a personal interface to the cloud and it works with all accounts on all of your devices. KiteDesk was founded in 2011 by Jared Rodriguez and Jack Kennedy, who have worked together to found three companies over a 15 year period, advancing innovation in emerging sectors including B2B commerce, enterprise software development, and now personal cloud services.