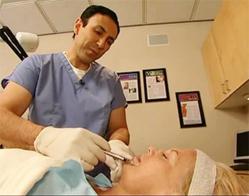 Los Angeles, California (PRWEB) February 14, 2013
Valentine's Day is reported to be the busiest day of the year for florists. The same might be said for lip augmentation during the lead up to Valentine's Day at Dr. Simon Ourian's Epione Beverly Hills. Dr. Ourian's lip enhancement procedure can give women the luscious and full look they want in time for the most romantic day of the year.
"The desire for full lips is ancient," says Dr. Ourian. "Often, thin lips can make a young and beautiful woman look old and tired, whereas a woman with full lips looks young and sensual."
The one to three step process involved in lip enhancement is fairly simple. The procedure includes plumping and refining the lips and then possibly using a laser for the finishing touches.
During the plumping step, dermal filler is injected into the lips. This filler makes lips appear fuller, contoured, and sexier. During the refining process, more filler may be added to perfect the desired look.
"How do I choose the dermal filler?" asks Dr. Ourian. "I examine each patient and discuss with them the look they want me to achieve. To this I add my fifteen years of experience in aesthetic medicine. It's a very collaborative process."
Finally, the process may be completed with a Coolaser or CoolFrax laser skin resurfacing treatment to address the area around the lips. Fine lines and wrinkles can very precisely be smoothed and removed.
Dr. Ourian has been a pioneer of laser technology and non-invasive aesthetic procedures including Restylane, Juvéderm, Radiesse and Sculptra. These treatments are used for the correction or reversal of a variety of conditions such as acne, acne scars, skin discoloration, wrinkles, stretch marks, varicose veins, cellulite, and others. More information about lip augmentation can be found on their website.