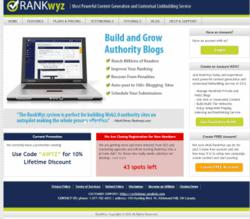 We are constantly upgrading and improving our features. Our goal is to build an immensely popular internet brand by providing excellent customer service
Richmond Hill, Ontario, Canada (PRWEB) February 14, 2013
Innovative internet service provider RankWyz.com has already revolutionized the process of building the online presence of your brand with an automated blogging system. Now, as a part of the desire to provide the best service possible, top-tier subscribers to RankWyz.com can create an unlimited amount of blogs in their network to help build and develop an authoritative internet presence.
RankWyz.com is the brainchild of founder Pavel Kovalev, who created the service as a way of building and managing massive blog networks from a single interface. As the optimum way to grab attention and advertise services, blogging is a proven marketing method that businesses simply must use if they wish to make their goods and services stand out from the crowd. A large amount of high-quality and informative blogs is key to reaching millions of potential customers around the globe. However, building and maintaining these blogs can be extremely time-consuming. This is where RankWyz comes in.
RankWyz.com allows its users to manage hundreds of blogs from one interface. The RankWyz interface also allows total control of each blog in the network, making it easy for users to add content, build back links, manage and implement keywords, and create contextual links from tier one properties. All tiers of our service provide these functions, making RankWyz flexible enough for users of any experience level .
For more advanced users, our Agency and Whyte level subscriptions provide enterprise users the best value when seeking to establish brand and market authority online. Both plans allow users to create blogs on over 100 blogging hosts, and both plans allow the creation of thousands of monthly back links to any primary site. The latest addition of unlimited targeted blogs in a niche is one of the quickest ways to drive visitors to a site, and to increase that site's all-important search engine ranking. For marketing firms, the top tiers of RankWyz both save time and boost efficiency due to their ability to streamline this most vital part of online marketing strategy. The ability to create unlimited, managed blogs makes RankWyz a vital ally to marketing professionals seeking to build a client's online presence.
"We are constantly upgrading and improving our features. Our goal is to build an immensely popular internet brand by providing excellent customer service. Our ultimate goal is 100% customer satisfaction and retention. We at RankWyz feel that we satisfy all of these goals, and are constantly setting new ones that benefit our customers", says the company's founder.
To learn more, visit http://www.rankwyz.com.