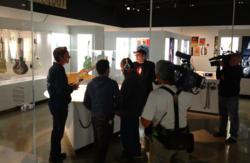 Those guys are great! Frank and Mike can rummage through my collection any day. --Rick Nielsen
Rockford, Illinois (PRWEB) February 13, 2013
GrahamSpencer, the creative team for Cheap Trick guitarist/songwriter Rick Nielsen's exhibit, Rick's Picks: A Lifelong Affair With Guitars & Music, announced today that Rick Nielsen and the exhibit will be featured in an upcoming episode of HISTORY's American Pickers, premiering March 11, 2013.
The critically-acclaimed hit television series follows Mike Wolfe and Frank Fritz as they scour the country for hidden gems in basements, garages and barns, meeting quirky characters and sharing their amazing stories with upwards of 5 million viewers each week. There is no story more amazing than Rockford-native's, Rick Nielsen, a true collector of the very first order.
Jay Graham of the Rick's Picks exhibit and Creative Director of GrahamSpencer explained, "Frank Fritz, like a lot of people who love great music, is a big fan of Cheap Trick. Naturally, when he heard about Rick's Picks, he wanted to experience it. It didn't take him long to convince picking partner Mike Wolfe that a little side trip to Burpee Museum and Rick's Picks would be worth their while. Of course, you'll have to watch the episode to see what happened."
"What happened was pretty special," said Mike Wolfe. "We're birds of a feather, Frank and Rick and me. Collecting, picking brothers in arms. We were all three bitten by the same crazy bug early on in life and it's amazing how quickly it brought us together when we went to Rick's exhibit in Rockford. That's when the picks really started flying."
"Seeing Rick's exhibit was truly mind-boggling," said Frank Fritz. "For me, as a nearly lifelong Cheap Trick fan, I was in heaven. And, then, to dig even deeper with Rick himself - well, we can't wait for the nation to see what we picked out of Rick's storage lockers. Mike and I drove away from Rockford very, very happy."
"Those guys are great," said Rick. "Frank and Mike can rummage through my collection any day."
The episode airs Monday, March 11 on HISTORY. Visit http://www.history.com/shows/american-pickers for local listings.
Rick's Picks will be through April 10th, 2013 at The Burpee Museum of Natural History, 737 North Main Street Rockford, IL 61103. Find more information on https://www.facebook.com/RicksPicksLive or follow emerging news at https://twitter.com/RicksPicksLive. Visit the Rick's Picks website: http://www.rickspickslive.com or to purchase tickets, visit http://www.burpee.org.
This project was partially funded by a Grant from the Illinois Department of Commerce and Economic Opportunity, Office of Tourism.
Post-Rockford, officials intend to send the exhibit on a worldwide tour. Corporations and Organizations interested in national and international sponsorship of the exhibit are invited to visit the Rick's Picks Sponsorship page. Many levels of collaboration are available. Current exhibit sponsors include Illinois. Mile After Magnificent Mile., BMO Harris Bank and Rockford Area Convention & Visitors Bureau, along with other supportive businesses and organizations.
About Rick's Picks
It's Guitars. It's Rick. It's Music History. It's a Fundraiser. From Rockford, Illinois' skating rinks to Tokyo's Budokan, Rick's Picks tells the 40-year story of one of the hardest-working stars in Rock & Roll. As one would expect, Rick has more stories than his five neck has strings. Rick's Picks also is a fundraiser for Rick Nielsen's favorite hometown museum, the Burpee Museum of Natural History. For more information contact Anne Boccignone, 815-742-0110, aboccignone(at)grahamspencer.com.
About GrahamSpencer
Founded in 1987, GrahamSpencer is a full-service design/communications firm that helps clients grow and tell their stories in a wide range of industries and an equally wide range of disciplines: research, analysis, planning, design, web development, advertising, social media and public relations. GrahamSpencer maintains offices in Rockford, Illinois, Ridgway, Colorado, Hoboken, New Jersey and now Nashville, Tennessee. For more information, please call or email: Jay Graham at 815-397-4949, jgraham(at)grahamspencer.com. Or, visit http://www.grahamspencer.com.
About Burpee Museum of Natural History
Since 1942, Burpee Museum of Natural History has inspired people to engage in a lifetime of learning about the natural world. Burpee Museum of Natural History is home to 66-million year old juvenile T.rex, Jane, as well as a number of other interactive and educational exhibits.
About Rick Nielsen & Cheap Trick
When Cheap Trick burst onto the national music scene in the 1970s, it broke new ground with a punkish, hard-edged brand of literate garage rock that was the perfect antidote to what ailed weary FM radio listeners worldwide. The band's uniquely midwestern sensibilities have been deftly recorded in 28 albums and laid bare in thousands upon thousands of performances worldwide. With walls of gold and platinum records to prove their enduring success, Cheap Trick and its pick-flinging, checkerboard-bedecked dynamo Rick Nielsen have never stopped touring, much to the delight of one of rock history's most loyal fan bases. Rick Nielsen, and bandmates Robin Zander and Tom Petersson were seen touring with Aerosmith in major cities across North America this summer. The band and the tour were named among "the summer's hottest," by Rolling Stone magazine.