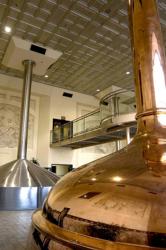 Sierra Nevada's pioneering legacy reflects California's tourism brand...
Chico, California (PRWEB) February 15, 2013
Sierra Nevada Brewing Co. will be honored in March as "Brewery of the Year" by the California Travel Association.
The brewery which is located in the Shasta Cascade region of northeast California (http://www.shastacascade.org) will be recognized at the California Travel Summit in San Diego for both the excellence of its product and for its contributions to developing the California tourism brand. Sierra Nevada is the first brewery in California to receive the distinction as Brewery of the Year, though many wineries have previously received similar recognition.
Founded in 1980 by Ken Grossman, a chemistry and physics student who opened a homebrew shop in Chico in the Shasta Cascade region of northeast California, Sierra Nevada Brewing Co. fulfilled Grossman's dream of operating his own brewery. It was among the country's first microbreweries. Today, it is America's sixth-largest brewery, producing around 900,000 barrels a year, sold in all 50 states and several countries.
CalTravel President and CEO said, "This award is exciting for two reasons. First, Sierra Nevada Brewing Company has set the standards for an artisan brewery and second, their pioneering legacy within the brewing industry reflects the spirit of our state's tourism brand."
Sierra Nevada Brewery hosted about 30,000 visitors in 2012 at its Chico location. Tours include visiting the tasting room next to the west brewhouse, and visitors can peruse the brewery's gift shop and dine at the taproom and restaurant where fresh produce grown in the brewery's estate garden, bread baked on site with spent brewer's grain, and artisanal meats and cheeses from Sierra Nevada's own stock are served.
In summer, tours include explanations of the advances that Sierra Nevada has made in sustainable brewing practices, including innovating the use of solar arrays and hydrogen fuel cells, other energy- and resource-saving tactics and visits to the brewery's two-acre estate garden and eight-acre hop field.
More about Sierra Nevada Brewer is found at http://www.sierranevada.com and the award at http://www.caltravel.org.