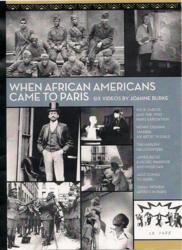 "We want young people to feel inspired by the astounding achievements of African Americans in this idolized city" says Julia Browne. "We want Francophiles of all cultures to connect to some of the greatest moments of exchange between America and France."
Paris, France (PRWEB) February 14, 2013
"When African Americans Came To Paris" tells the compelling yet little-known history of Black artists, intellectuals, and musicians who laid the groundwork for the rich African American heritage in France. The DVD includes six fascinating videos that blend rare archival images and film, thoughtful commentary by experts, and exceptional storytelling. It is a tribute to African American talent that found acceptance and celebration abroad at a time when it was rebuffed in the USA.
Featured are:
-- W.E.B. Dubois and his pioneering photo exhibit on middle-class African Americans at the 1900 Paris Exposition.
-- Henry Ossawa Tanner, the first African American painter to attain international renown.
-- The Harlem Hellfighters, the much-decorated infantry regiment which fought under World War I French Army command.
-- Lt. James Reese Europe, who, as the leader of the Harlem Hellfighters' band, introduced jazz to Europe.
-- Jazz in Paris after World War I, when the African American invention of jazz and Harlem in Montmartre became all the rage in the 1920s.
-- Lois Mailou Jones, Augusta Savage, and Nancy Elizabeth Prophet embody the challenges and successes of three women artists in the art-crazed Montparnasse of 1920s and 1930s.
Each piece runs 4 to 7 minutes. Each of the six stand-alone stories fascinates with thought-provoking commentary by scholars, artists and other present day contributors. They include University of California Berkeley's Tyler Stovall, the author of Paris Noir; Columbia University Jazz Institute founder Robert O'Meally; art scholars Theresa Leininger-Miller and Richard Powell; Marcus Bruce, the author of Henry O. Tanner, A Spiritual Biography, Terri Francis of Yale University; Columbia University cultural historian Brent Hayes Edwards; and renowned Paris-based artist and novelist Barbara Chase-Riboud.
This DVD series is designed as a versatile educational tool easily accessible for the classroom or for general at home enjoyment. The short length and rich content make the segments ideal for inclusion into courses on art, music, history, literature, politics, and social studies.
A comprehensive Teacher's Guide is available to enable anyone wishing to make an informed and valuable presentation to all age groups and backgrounds.
"With this fascinating DVD, Blue Lions Films and Walking the Spirit Tours of Black Paris are furthering a common goal to make African American history in Paris common knowledge," says Julia Browne, the CEO and Founder of Walking the Spirit Tours.
A vibrant African American community still exists in Paris. This series reveals why France, and especially Paris, has attracted generations of African Americans for over a century.
"When African Americans come to Paris, they discover the terms by which they want to define themselves," explained Bates College professor Marcus Bruce in the segment on Henry O. Tanner.
"When African Americans Came To Paris" was produced, directed, and edited by Paris-based New Yorker Joanne Burke, the CEO of Blue Lion Films, Inc. Her long, high-level career includes editing three feature films for Sidney Lumet, the Maysles Brothers' feature documentary 'Gimme Shelter' about the Rolling Stone, and her own production of the award-winning film 'Mary Lou Williams: Music on my Mind', about the great jazz pianist and composer. Her husband David Burke, a former '60 Minutes' writer/ producer, is the writer for all of her films. Their current work-in-progress is an hour-length documentary called 'Paris Noir, African Americans in the City of Light'.
Julia Browne, the CEO and founder of Walking the Spirit Tours (http://www.walkingthespirit.com), created the first ever tours of Black Paris, in 1994. Her tour company introduces travelers to the little-known Black past and present in Paris through walking and bus tours. As a certified France Specialist, she also creates exciting customized itineraries and provides full trip planning that blends Afrocentric discover with a sensorial exploration of France. She is the key consultant, promoter, and distributor of the "When African Americans Came to Paris" DVD and is featured in the Harlem in Montmartre segment while giving one of the lively historical tours she created.