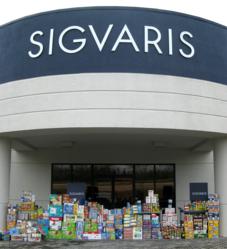 Peachtree City, Ga (PRWEB) February 13, 2013
This year, SIGVARIS collected thousands of items to help the Real Life Center. The food drive is part of the local Boy Scouts' "Scouting for Food" challenge, a cause that SIGVARIS employees enthusiastically agreed to participate in for the second year in a row.
Last year, SIGVARIS' contribution to the Real Life Center helped many families in need. In 2012, the Real Life Center was able to distribute more than 340,636 pounds of food to more than 6,457 people who visited the center. "We were able to help so many people last year thanks to companies like SIGVARIS and many individuals from our community who were all willing to step in and help their neighbors," says Cathy Berggren, executive director of the Real Life Center.
The Real Life Center is a local organization committed to helping families get back on their feet financially, emotionally or spiritually during tough times. The Boy Scouts created the annual "Scouting for Food" program to partner with local businesses to help collect basic necessities for those in need.
Each year the center receives many letters, cards and phone calls from people they have been able to help. One person recently wrote in saying: "I'm writing to say thank you for the help you have provided me and my family during this difficult time...though times may be tough, we're making it. Thank you for your ministry, love and support." It's letters like these and seeing the difference it makes in the lives of others that illustrates the importance of the annual "Scouting for Food" challenge.
"For many, just knowing that someone cares during the hard times can make all the difference," Berggren says. "SIGVARIS has been a great role model for other businesses by encouraging them to get involved."
This year's donation from SIGVARIS included nearly 5,000 food items, snacks, diapers, baby care items, baby food, personal healthcare supplies and household cleaning supplies. During the past few weeks, a friendly competition grew around SIGVARIS as each department within the company brought in items to try to become the department with the largest contribution. The program has quickly become a SIGVARIS favorite annual community service project.
About SIGVARIS
SIGVARIS® North America is part of an internationally active medical device group headquartered in Winterthur, Switzerland that focuses on the development, production and distribution of medical compression garments, including hosiery and socks. With distribution in more than 60 countries on six continents, SIGVARIS is recognized as a global industry leader in the area of compression therapy for the management of chronic venous disorders. SIGVARIS product lines include: SIGVARIS MEDICAL, SIGVARIS WELL BEING and SIGVARIS SPORTS. Our US manufacturing plant is located in Peachtree City, GA. For more information, please visit http://www.sigvarisusa.com. SIGVARIS is a registered trademark of SIGVARIS AG, CH-9014 St. Gallen/Switzerland and in many countries worldwide.