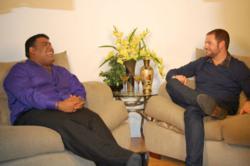 Through I AM BIG I want to hug the world so the world hugs me back. Listening to Shaun's story reinforces the need for authenticity." - Ayush Maheshwari
Chicago, IL (PRWEB) February 14, 2013
On March 14, 1992, Shaun Sperling was Bar Mitzvahed in the northwest suburbs of Chicago. The theme Shaun chose to signify the religious celebration of him becoming a man was 'Madonna'. To kick off the party, he performed a dance to 'Vogue.' 20 years later he released the video of his performance on YouTube and became an inspiration to millions.
Today, Shaun is an attorney, writer, civil rights advocate, performer and speaker. The video of him performing Madonna's "Vogue" at his 1992 Bar Mitzvah went viral in August 2012, receiving over 1 million views. He has appeared on Today, Jimmy Kimmel Live, HuffPost Live, and The Ellen DeGeneres Show.
This Saturday on I AM BIG on line inspirational talk show , Shaun talks candidly about his journey after this video went viral, the games in Hollywood, how difficult it can be to get your true message out on major talk shows, his experience of meeting Madonna, and how he is working to spread a message of authenticity, self-respect, compassion, acceptance, and making your dreams come true through his speaking and workshop series, YOUniveristy™.
"It was not just about a kid dancing flamboyantly at 13, it was about self-respect and authenticity and having support from friends and family. This is where these Hollywood games get difficult, you realize that you are on these talk shows for what they want and I very quickly realized that they didn't want to hear about my message, but I made sure it got in. Sharing my story on I AM BIG Show was an extraordinary experience because of Ayush's incredible insight into what is truly important in everybody's individual story. Ayush and I have a common goal of helping people live their lives to their full potential. It was so refreshing to share that goal with someone with a true gift for touching people's lives in a very big way," says Shaun Sperling.
I AM BIG is an inspirational online talk show about sharing what's working in a big way. I AM BIG focuses on what makes everyday life extraordinary. I AM BIG believes that there is "bigness" in life. The purpose of this weekly show is to bring folks from everyday life to talk about what's working in their life- what's working in their personal lives, what's working with their careers and what's working with their connection to the community. The show wants to learn how they balance these 3 aspects of their lives. Most importantly, the show allows guests to share with viewers what makes them them.
I AM BIG show covers a range of topics through its versatile guests. Whether its struggling with an addiction, battling cancer, dealing with infertility issues, trying to find one's true calling, coming out to one's family, struggling with weight, dealing with bullying, or experiencing divorce the show talks about what is working in people's lives and as a result creates a network and framework to support others with similar issues. I AM BIG believes that there is a star in everyday people and wants that light to shine.
Ayush Maheshwari is the creator and host of the I AM BIG online inspirational talk show. Maheshwari overcame a difficult childhood to achieve great success including being one of the youngest directors in the history of a Fortune 500 company, releasing a music album with a major record label, and leading charitable outreach to benefit underprivileged children in India.
"I am an overweight gay man living in Chicago. I came to America 15 years ago to go to school. America empowered me to be me and I was able to create a place for myself. I realized that I am not abnormal or not good enough. Through I AM BIG I want to hug the world so the world hugs me back. Listening to Shaun's story reinforces the need for authenticity." - Ayush Maheshwari
I AM BIG draws its inspiration from Karma Yatra™.Literally translated "a Journey of Deeds," Karma Yatra™, created by Ayush Maheshwari (widely known as Big Indian) in 2002, has reached millions in India.
David Rokos is the Senior Producer on the I AM BIG SHOW. After graduating from Columbia College , Rokos traveled all over the country working on videos for businesses that ranged from small mom and pop stores to multinational companies. Rokos met Ayush in summer 2012 and was instantly connected to the idea of sharing positive stories, and making a difference in the world.
For more Information on I AM BIG on line inspirational talk show please visit our site at http://www.iambigshow.com