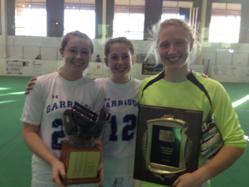 It was fun to witness not only their talent on the field, but the support they have for one another on and off the field
Owings Mills, MD (PRWEB) February 15, 2013
On Saturday, February 9, Garrison Forest School's (GFS) Indoor Soccer team were champions for the fifth and the first time. The GFS Grizzlies have taken home an IAAM Championship title and trophy for five years in a row, but the 2013 IAAM Championship win over John Carroll marked the end of a very successful, first season for the Grizzlies in the IAAM-A Conference.
GFS finished its "freshman" year at the highest conference level in the IAAM with a regular season record of 11-1-1, entering the IAAM-A tournament as the #1 seed and earning a first-round bye. The team of experienced players, coached by Bill Tarlton and led by tri-captains Natalie Delinsky '13, Jena Lafferty '13 and Kamber Parker '13, kicked it up a notch throughout the season and during the IAAM-A semi-finals (4-2 over Friends School of Baltimore) and during the Championship, held at Clarence "Du" Burns Arena in Baltimore where they beat John Carroll 4-3.
"I am so proud of this soccer team," says Traci Davis, GFS Athletic Director. "The team did not skip a beat in moving up to the A-Conference. The Championship game was incredibly well played by both teams and was the best indoor soccer game I have ever seen. Our team seemed very calm in this hotly contested game. They executed their game plan brilliantly and won with a true team effort. It was fun to witness not only their talent on the field, but the support they have for one another on and off the field."
The Indoor Soccer Championship also marks the fifth championship for a GFS team during the 2012-2013 school year. Cross Country, Varsity Field Hockey, Middle School A Basketball, Tennis Singles and Varsity Indoor Soccer have all taken home championship titles.