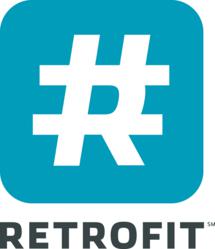 Weight management can be a real challenge in our food-rich environment. Having honest and caring communication with your significant other, and having support, is vital for losing weight.
-- Dr. Brad Saks, Psy.D.,
Retrofit Advisory Board Member
Skokie, IL (PRWEB) February 14, 2013
Skip the candy this Valentine's Day and celebrate by making time to get healthy with a friend or loved one. Studies show that people trying to lose weight with a partner find social support a huge factor in their success. Retrofit, Inc., the weight loss program for busy professionals, has found that clients who embark on a weight loss journey with a partner value the additional support because it contributes to successful results.
"Teaming up with someone to improve your health is a great way to ensure long-lasting success and shed those extra pounds," said Retrofit Lead Behavior Coach Jennifer Plotnek. She adds that clients who are working together have an easier time sticking to their weight loss goals and subsequently creating a healthy environment for the entire family or workplace. "There is power in numbers."
A study published last month in the Journal of Social and Personal Relationships reports that mixed weight couples, where one partner is overweight and the other one isn't, have more relationship conflict. However, Retrofit Advisory Board Member Dr. Brad Saks, Psy.D., finds the opposite is true for couples who support each other in their efforts to exercise and eat healthy.
Numerous Retrofit clients have signed up for the innovative weight loss program alongside a spouse or co-worker. More than 90% of Retrofit clients are losing weight on the program, which includes wireless monitoring of a client's weight, activity and sleep, as well as private lessons with a registered dietitian, exercise physiologist, and behavior coach via Skype videoconferencing.
"Weight management can be a real challenge in our food-rich environment. Having honest and caring communication with your significant other, and having support, is vital for losing weight," said Dr. Saks, who suggests not being afraid to ask a partner for help. "Ask for help removing foods that get you into trouble and make sure good foods are available around the house or office, so you and your weight loss partner both stay on track."
"It helps to have a partner who understands that you are trying to make overall healthier choices," said Retrofit client Amy Williamson, who recently completed the year-long Retrofit program with her husband Kilby. Together they lost almost 65 pounds. "There is less likelihood of sabotage, where one is influencing the other to 'be bad.'"
Dr. Saks also references the social contagion theory published by the Framingham Heart Study in the New England Journal of Medicine, which demonstrates how chronic/behaviorally based diseases such as obesity can spread through social networks.
"The take-home is that the better you do on a weight loss program, the better your significant other, spouse, friend or co-worker does as well. Working in tandem is actually doing the other person a favor because success can come easier when you work towards a unified goal," adds Dr. Saks.
"When you have those around you working towards the same goals, then you have a strategic advantage with idea bouncing," said Jake Dekelver, Facilities Manager at VISTA Staffing Solutions, a Salt Lake City company that won a year of weight loss in the "Retrofit My Company" contest.
"When you can hear others' ideas and bounce some of your own off of them, the ideas only get better. It goes with the old adage of 'Two heads are better than one'. You can refine ideas on how to get your step counts, find better, healthier recipes, and cheer on achievements. It helps to have that extra accountability to push you through both the good and bad times."
Plotnek offers the following tips to her Retrofit clients for losing weight and making sustainable behavior changes with a partner:
1. Support, but don't police. Remember that motivation waxes and wanes. If your loved one is also trying to lose weight and you find yourself losing focus, your partner is a great person to help you stay committed to your goals with positive support and encouragement. Take walks together and support each other with meal planning.
2. Make time to get healthy by scheduling appointments. Block out time on your calendar for exercise and grocery shopping, and hold each other accountable to the plan.
3. Challenge each other to eat slowly and mindfully. See who can be the last person to finish their meal rather than the first one. It takes 20 minutes for your head to catch up with your stomach, so slow down and give your body a chance to recognize that it is full.
"Losing weight together creates a bond that makes your love grow stronger," Plotnek said. "Inspire each other to want to get healthy and live longer for your children or grandchildren. Don't wait for health problems to happen. Be proactive and prevent them together."
About Retrofit
Retrofit, the weight loss program for busy professionals, is designed to deliver lasting results. Its innovative year-long program includes wireless monitoring of a client's weight, activity and sleep, as well as private lessons with a registered dietitian, exercise physiologist, and behavior coach. Retrofit recently raised $8 million in a Series A financing led by Draper Fisher Jurvetson (DFJ), bringing the total investment in Retrofit to $10.7 million.
Retrofit can be found on the Web at http://www.retrofitme.com and (855) 4-RETROFIT. Follow the company on Facebook and Twitter at @retrofitme.