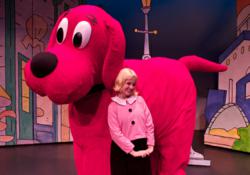 Worcester, MA (PRWEB) February 20, 2013
Scholastic's "Clifford The Big Red Dog®," in conjunction with his 50th anniversary celebration in 2012-2013, comes to life on stage in an all new family musical, CLIFFORD THE BIG RED DOG LIVE! Join Clifford and Emily Elizabeth at The Hanover Theatre for the Performing Arts on Sunday, March 10 for two performances at 11am and 3pm.
In this new musical adventure, Clifford and Emily Elizabeth take audiences on a journey to Birdwell Island with their friends Cleo, T-Bone, Charley, Jetta, and Mac. Together they learn about Clifford's BE BIG!™ Ideas – "Share, Play Fair," "Have Respect," "Work Together," "Be Responsible," "Be Truthful," "Be Kind," "Help Others," "Believe In Yourself and Be A Good Friend" -- with laughter, songs and dancing that the whole family will love. Clifford's Big Ideas came out of the curriculum developed for the award-winning animated television series "Clifford the Big Red Dog," based on the books by Norman Bridwell that airs on "PBS Kids®."
The property continues to perform well internationally with television episodes sold to more than 110 countries worldwide. With more than 126 million books in print, Clifford is a literary classic embraced by parents, teachers and kids.
Tickets to CLIFFORD THE BIG RED DOG LIVE! are $30, $35 and $40* with a 10% discount available for members of The Hanover Theatre, groups of 10 or more and WOO Card holders. Tickets are available online at TheHanoverTheatre.org, by phone at 877.571.SHOW (7469), and at The Hanover Theatre box office located at 2 Southbridge Street in Worcester, MA.
About The Hanover Theatre
The Hanover Theatre for the Performing Arts, located in downtown Worcester, New England's second largest city, is recognized by Pollstar as one of the top 50 theatres in the world. After undergoing many name changes and renovations over the decades since its 1926 birth, The Hanover Theatre reopened in March 2008 following a $32 million historic restoration. Since then, the theatre has established its place as a rich entertainment and cultural venue, winning numerous awards, including The National Trust for Historic Preservation Award in 2010. Now in its fifth season, The Hanover Theatre continues to expose over 170,000 annual patrons to world-class entertainment in the form of Broadway, concerts, comedians and much more. For more information, visit TheHanoverTheatre.org. Worcester Center for the Performing Arts, a registered not-for-profit 501(c)(3) organization, owns and operates The Hanover Theatre for the Performing Arts. All donations are tax deductible to the fullest extent allowed by law.
*Ticket prices are subject to change without notice.