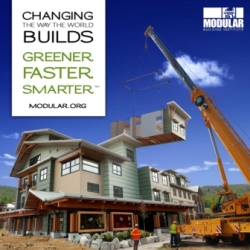 (PRWEB) February 14, 2013
Modular Building Institute, the international nonprofit trade association that serves the commercial modular construction industry, will host its annual convention and trade show, World of Modular, March 16-19, 2013, in Scottsdale, Arizona. For 30 years, the event has provided industry professionals from around the world with a place to network, exchange ideas, learn from experts, discuss issues, display new products and receive recognition.
This year's speakers include high-profile economists, industry leaders and academics, who will discuss industry growth, trends and technology, green building, lean construction, the integration of modular with traditional construction, and more. Factory tours of DIRTT Environmental Solutions and Accelerated Construction Technologies will be included in the program. Speakers and topics include:
Anirban Basu, Chairman and CEO, Sage Policy Group, Inc. - Construction Drivers and Trends in 2013
Michael Landry, Managing Director, FMI Capital Advisors - Modularization and Prefabrication: Role Development and Evolution
Deke Smith, Executive Director, Building Seismic Safety Council and the buildingSMART alliance™, National Institute of Building Sciences - Using BIM in Modular and Offsite Construction: A Natural Pairing
Ryan Smith, Director, Integrated Technology in Architecture Center, University of Utah College of Architecture and Planning - PMC Best Practices Worldwide
Tom O'Hara, Business Development Director, Capsys Corporation - My Micro NY
Stuart Emmons, Owner, Emmons Modular - An Architect's Perspective: Modular as Green, Affordable Construction
Sandra Stannard, Professor of Architecture, Cal Poly San Luis Obispo - Responding to Climate with Off-the-Grid and Net-Zero Buildings
Kenneth Sullivan, Associate Professor, Co-Director PBSRG School of Sustainable Engineering and the Built Environment, Ira A. Fulton Schools of Engineering, Arizona State University - Cost and Risk Minimization Through Value-Based Project Delivery
Mark Taylor, Vice President of Permanent Modular Construction for PCL Constructors Canada - Integrating Modular and Offsite Construction
World of Modular is an open forum for anyone interested in the modular construction industry. A special student rate of $99 is being offered. To learn more, or to exhibit or attend, please visit http://www.worldofmodular.org.
About MBI
The Modular Building Institute is the international nonprofit trade association that has served the modular construction industry for 30 years. Members are suppliers, manufacturers and contractors involved in all aspects of modular projects -- from complex multistory solutions to temporary accommodations. As the voice of commercial modular construction, MBI expands the use of offsite construction through innovative construction practices, outreach, education to the construction community and customers, and recognition of high-quality modular designs and facilities.