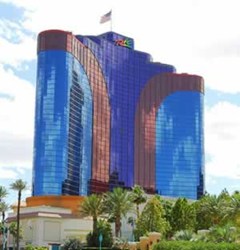 Continuing in our commitment to attract locals, Rio All-Suite Hotel & Casino is proud to be a sponsor of the 13th Annual Vegas Loves Brazil Cultural Festival - Paul Baker, vice president of Rio.
Las Vegas, NV (PRWEB) February 13, 2013
The 1st Annual Vegas Loves Brazil Festival, to be held Saturday, April 13, 2013 at the Clark County Amphitheater, recently confirmed Rio All-Suite Hotel & Casino as the cultural festival's newest sponsor. Rio's iconic mascot, Rio Rita, will make appearances throughout the event. The property will also have a booth and will be giving out various prizes from the main stage at the event.
"I am extremely happy to have the Rio as a partner for Vegas Loves Brazil, as the Rio shares the festival's love of fun and having a good time," says Vegas Loves Brazil co-founder and organizer, Ramon van Meer.
Rio All-Suite Hotel & Casino, home of the World Series of Poker, offers guests a unique all-suite hotel experience. Complete with 2,522 all-suite hotel rooms, the property overlooks the famous Las Vegas Strip and sits one block west of the famed boulevard. The resort features a variety of entertainment options including headliners Penn & Teller, the world-famous Chippendales, the Show in the Sky and Crown Theater. Rio is home to a diverse array of dining and nightlife experiences including, the famous Martorano's, Voodoo Steak, KJ Dim Sum & Seafood, iBar and VooDoo Beach. Rio also offers the Rio Secco Golf Club. Recognized by USA Today as one of the "Top 10 Golf Destinations in the World," Rio Secco Golf Club is an 18-hole championship course designed by famed architect Rees Jones and home to the Butch Harmon School of Golf. For more information, please visit http://www.riolasvegas.com or http://caesars.thedigitalcenter.com to access media materials and request high-resolution images. Find Rio on Facebook and follow on Twitter.
The Vegas Loves Brazil festival will take place on April 13 at the Clark County Amphitheater from 1 – 9 p.m. The festival will highlight the best in Brazilian culture through food, song and dance. Samba performances as well as the famous Brazilian martial art dancing style of Capoeira will be abundant throughout the day. Kids will enjoy face painting, bounce houses, carnival rides, games and pony rides. Tickets for adults are $5 and free for children under 12 years old. Free parking will be available onsite.
For more information and to purchase your tickets visit http://www.vegaslovesbrazil.com