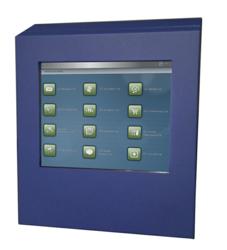 Mobile, Alabama (PRWEB) February 14, 2013
Global Tel*Link Corporation announces the newest addition to their correctional product lineup with GTL Genesis, an advanced kiosk solution intended for use in housing units of correctional facilities.
This innovative solution allows correctional facilities to deploy numerous touch-screen applications from a secure behind-the-bars kiosk that integrates fully with Global Tel*Link's technology products. The GTL Genesis solution is a controlled method for managing, monitoring, and organizing communication between facilities and offenders, offenders and friends and family, as well as providing offenders with tools for education, communication, rehabilitation, and consumable ordering. This single-point solution will vastly improve facility operations while assisting offenders with re-entry into the community.
The GTL Genesis solution is focused on three areas:

increasing accountability and oversight of inmate services
automating current practices
connecting inmates with essential services
By utilizing automation and offender centric applications, facilities can reduce the overwhelming number of inmate requests that corrections officers face on a daily basis, freeing them to concentrate on facility operations. Robust reporting and investigative tools further enhance the GTL Genesis solution allowing administrators to make complex decisions based on real-time information and accurate data. Direct integration with other industry-leading Global Tel*Link tools such as its Offender Management System, and the advanced Global Tel*Link telephone platforms and investigative tools further reduce data-entry and increase intelligence gathering capabilities.
The GTL Genesis solution extends the amount of resources that can be made available to the offender population with an extensive set of applications for the correctional environment such as:

filing inmate grievances
ordering commissary
approving and requesting allowed phone number lists
scheduling visitation
conducting law library research
Couple these services with the ability for inmates to have access to media like music, books, games, educational services and the GTL Genesis solution becomes the most advanced in-pod kiosk offering on the market today.
Built on a modular platform, correctional facilities can custom-build an in-pod kiosk solution unique to their facilities needs, security level, resources, and goals. In addition, the solution provides the ability to migrate to the next generation of wireless delivery through tablets. GTL Genesis replaces multiple outdated IVR solutions, manual processes and inmate interaction with correctional officers.
For facilities looking to increase efficiencies, take advantage of comprehensive reporting tools that span multiple systems, and provide a greater level of access to programs and information for their offender population, the GTL Genesis solution is the right choice. Contact a Global Tel*Link representative today for a demonstration of this powerful new product or visit http://www.gtl.net/lp/inpod/press.shtml
About Global Tel*Link:
As the leading provider of integrated correctional technology solutions, Global Tel*Link provides service to approximately fifty percent of inmates nationwide including service to thirty State Department of Corrections and fifteen of the twenty-five largest city/county facilities. To learn more about GTL's applications and solutions or to speak to a representative of GTL, please visit our website at http://www.gtl.net or contact us at 800.489.4500.
Media Contact:
Anthony Bambocci, Chief Marketing Officer
Global Tel*Link Corporation
phone: 888.222.3081 ex. 81105
email: anthony.bambocci(at)gtl(dot)net
website: http://www.gtl.net