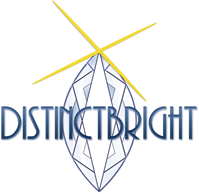 The easiest, quickest and healthiest way to clean and restore the original brightness of jewelry, rhinestones, watches and semi-precious stones using the power of probiotics. DistinctBright contains no ammonia or harmful chemicals and is easy on the skin.
Miami, FL (PRWEB) February 24, 2013
Using chemicals to clean everyday surfaces may remove unsightly dirt and grime in a flash- but what those harsh chemicals are leaving behind may cause more damage to your households and families than suspected by strengthening bad bacteria.
Thedailygreen.com shares some insight on natural cleaning methods that work just as good as the leading chemical cleaners. Vinegar, water, baking soda, borax, salt, and lemon juice are the most common ingredients thedailygreen suggests. Various combinations of those ingredients with water will help clean anything from wood floors to windows and grout in the bathroom.
"Chemicals can produce indoor air pollution by off-gassing toxic fumes that can irritate eyes and lungs," Claims sources from thedailygreen, siting that children and pets are most at risk. The use of toxic chemicals on everyday surfaces we touch also leaves behind residue we come in contact with.
The use of chemicals instead of lemon juice, tea tree oil, and probiotics kill the good bacteria in your home and makes the bad bacteria more resistant to toxins over time. Using a natural remedy fights nature against nature, and has been used for centuries without fail. Using man made chemicals only introduce a new substance for bad bacteria to overcome.
Fernando Perez, a spokesperson for DistinctBright adds, "Considering a probiotic cleaner as a possible way to clean the home, and jewelry, especially to clean Pandora bracelets and other silver." Probiotic cleaners use the good bacteria that are found in the environment to battle dirt a residue, and will work well in conjunction natural cleaners by creating a non-toxic living environment- and saving money!
DistinctBright is an advanced cleaner that uses nature's power to clean, sanitize and protect personal items like jewelry. DistinctBright contains no ammonia or harmful chemicals and is easy on the skin. DistinctBright is non-toxic, has no harmful fumes and contains no allergens. Also, a great way to clean Pandora bracelets.