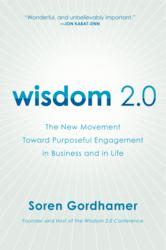 Wisdom 2.0 addresses the challenge of our age: to not only live connected to one another through technology, but to do so in ways that are beneficial, effective, and useful.
San Francisco, CA (PRWEB) February 15, 2013
Soren Gordhamer is the creator of the Wisdom 2.0 Conference, a gathering of Silicon Valley elite (including the founders of Facebook, Twitter, eBay, and Paypal) and teachers from various traditions (including Jack Kornfield, Jon Kabat-Zinn and others) focused on how to live with greater presence, meaning, and mindfulness in the technology age. His book, WISDOM 2.0: The New Movement Toward Purposeful Engagement in Business and in Life (HarperOne; February 2013; Trade Paperback) is designed to help anyone navigate the digital demands of quantity, speed, and efficiency and achieve more balanced, mindful, and personally connected interactions.
Upon experiencing an epiphany in his own life where he'd sacrificed his physical and mental wellbeing to a desire to be constantly connected online, and recognizing that the online tools created to make life better and easier had become "overbearing masters" directing much of his life, Soren Gordhamer forged another path, one that brought awareness and consciousness to what had been frenzied and involuntary. The results of this radical shift included improvements in his health, sleep, productivity, relationships, and something that had become unheard of in the age of hyper-connectivity: free time.
WISDOM 2.0 helps the reader learn to make conscious choices about how to use the tools of technology without becoming enslaved by them, and how to live in our constantly connected world in a way that is "creative, aware, and where you are in the drivers' seat". The book incorporates Godhamer's wisdom 2.0 philosophy and combines that with daily practices focusing on such matters as:

The Art of Attention
Life Alignment
Resisting the Trap of the Emergency
Trust Not Knowing
Insightful and greatly needed in these ever-connected times, WISDOM 2.0 will guide our interactions toward greater meaning, productivity, and wellbeing.
About the Author:
Soren Gordhamer works with individuals and groups on living with greater mindfulness and purpose in our technology-rich age. He is founder and host of the Wisdom 2.0 Conference, the annual event exploring the application of wisdom and mindfulness in modern life. The 2012 event brought together members of the technology community, including the founders of Facebook, Twitter, eBay, and Paypal, along with teachers from various traditions to discuss balance, innovation, and engagement in our modern world. The conference, which has sold out almost every year, is leading the exploration on the role of mindfulness in the modern age. Wisdom 2.0 is one of the first books to explore living with mindfulness and wisdom within the context of our modern technology age. A former project director for Richard Gere's public charity, Healing the Divide, he organized The Healing through Great Difficulty conference with his Holiness, the Dalai Lama. He has been featured in various media, including GQ Magazine and Newsweek.com, and has taught mindfulness programs everywhere from youth in New York City juvenile halls, to trauma workers in Rwanda, teachers in Nigeria, and to staff at U.S. technology companies. He enjoys time with his son, long hikes, and being near very large trees. More at http://www.sorengordhamer.com.
WISDOM 2.0: The New Movement Toward Purposeful Engagement in Business and in Life
By Soren Gordhamer
HarperOne / February 2013 / $15.99 Trade Paperback
ISBN: 9780061651519
Also Available As An eBook