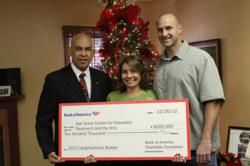 "Oak Grove Center is truly exceptional for its impact throughout the Inland Empire, and extending a helping hand to those who need it most." Al Arguello, Bank of America
Murrieta, California (PRWEB) February 14, 2013
Oak Grove Center for Education Treatment & The Arts(Oak Grove Center) has been named as a Bank of America Neighborhood Builder®, a program that helps address local challenges in community development, workforce development and education, and other critical needs. Oak Grove Center and a select number of other high-performing nonprofits were invited to apply for the award, which provided $200,000 in unrestricted grant funding as well as extensive leadership development for executive directors and emerging leaders. Oak Grove received the grant, which is supporting the development of the new school site, Oak Grove Center at the Ranch, in Perris, CA.
Oak Grove Center Executive Director Tammy Wilson reflects on the receipt of the grant by stating, "We are so grateful for the generosity of Bank of America and what this means for our students." She continues, "We have gone from renting a building to being able to invest in the neighborhood of Perris by renovating a campus that will better suit our student's needs. The grant also provides us with leadership training that aids in the entire operation of all our programs."
Oak Grove at the Ranch provides services to students with histories of chronic and severe social, emotional, behavioral, and academic challenges. A large segment of the student base on this campus is comprised of children with autism. This $200,000 grant will support the development and infrastructure including an outside basketball court, landscaping and site development for the school campus, as well as expansion of the technology programs and computer labs. All of this allows for an expansion of services provided for students, including students with autism.
"Local nonprofits are critical in creating economically and socially vibrant communities, delivering exceptional services and opportunities to thousands of neighborhoods across the country," states Al Arguello, Inland Empire Market President of Bank of America. "Oak Grove Center is truly exceptional for its impact throughout the Inland Empire, and extending a helping hand to those who need it most."
The Bank of America Neighborhood Builder's Program has become the nation's largest philanthropic investment in nonprofit leadership development, having recognized nearly 700 organizations and provided training to nearly 1,200 nonprofit leaders.
For more information about Oak Grove Center and the programs they offer, visit http://www.OakGroveCenter.org or call (951) 677-5599.
# # #
About Oak Grove Center: Oak Grove Center is a nonprofit educational and residential center which serves over 200 children at two separate campuses. The Murrieta campus serves as a treatment facility for 76 youth who receive 24-hour residential care and educational services. Additionally, 80 students attend the nonpublic school located at the Murrieta campus. Oak Grove at the Ranch in Perris, CA is the second campus where 30 students attend the nonpublic Day Program. Students are referred to Oak Grove Center from Riverside, Orange, San Diego, San Bernardino and Los Angeles Counties.